E46 M3 Genuine BMW Steering Wheels

Upgrade your BMWs steering wheel with one of these OEM BMW steering wheels. Upgrade to the M3 steering wheel or select one of our other BMW motorsport steering wheels. These steering wheels feature sportier styling, thicker diameter gripping surface and some even have the tri-color M stitching around the inside.
Check our our selection of
MOMO steering wheels
for your BMW.

For accurate results, specify your model below.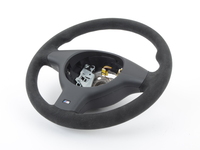 Improve the look of your interior and feel of the steering wheel in your E46-including M3 with this factory alcantara replacement. This wheel is very close to the thickness of the stock M3 wheel. Installation is very easy. (Requires airbag swap.) Detailed instructions are included. You must have similar-style 3 spoke wheel in your car to begin with to change to this wheel since airbag and multifunction button faceplate must be swapped to the new wheel.
This item fits the following BMWs:
1999-2005
E46 BMW
323i 323ci 325i 325ci 325xi 328i 328ci 330i 330ci 330xi M3

Part #: 32347919217
Ships on Apr 17, 2018
Free Shipping
Your BMW's steering wheel is what you touch and interact with most on your BMW. This wheel is perfect for either refreshing a worn stock E46 M3 steering wheel, OR to upgrade the wheel on a sport-package equipped 325i, 325Ci, 330i or 330Ci (with the circular/round shaped sport airbag).
This Genuine BMW E46 M3 steering wheel has a much thicker circumference, which on a non-M3 totally changes the "feel" of your steering. This wheel has the same girthy rim thickness like that of the 330i/330Ci ZHP package, making it highly desirable in a non-M3. We've installed this wheel on several customer non-M E46s, and the feedback has been resounding -- this is one of the best mods you can do to make a 325 or 330's steering feel better from the driver's seat.
This wheel comes as shown, and does not include the airbag. Wheel comes complete with comfortable thumbs grips, "///M" logo lower fascia, multi-function button panel, and tri-color M stitching on the inner seam. Installation can be done in less than 10 minutes! DOES NOT INCLUDE AIRBAG -- You must reuse your existing airbag. If you are putting this wheel on a non-M3, please make SURE your 3 series came with the "sport package" round style airbag. Any other airbag will not fit this wheel.
This E46 M3 Steering Wheel fits the following BMWs:
2001-2005
E46 3 Series sedan
325i, 325xi, 330i, 330xi **WITH sport package wheel
2001-2006
E46 3 Series coupe
325Ci & 330Ci **WITH sport package wheel
2001-2006
E46 M3
coupe/convertible (6 speed Manual only, no SMG)

Part #: 32342282020
In Stock
Free Shipping