BMW E46 M3 Lightweight Aluminum Flywheel Upgrades


hasmanufactured and supplied high quality lightweight aluminum flywheels to theperformance industry for over 25 years. JB is the original designer andmanufacturer of the BMW E36 aluminum flywheel. JB Racing is constantly expandingtheir flywheel line to include the latest performance applications such as; MiniCooper and BMW E46 325/330, and Z4 utilizing the new 6-speed (SMG) transmission. ALL of the current dual-mass replacement flywheels are designed to accommodatemost of the common sprung-hub clutch discs to minimize the gearbox "rattle."Sachs, S.P.E.C., Clutch Net, and others manufacture sprung-hub discs that willclear in the center hub cavity of these flywheels.
All of their flywheels are designed, manufactured, and assembled in-house attheir  Florida facility which allows to maintain stringent quality control.You simply cannot buy a higher quality lightweight aluminum BMW flywheel… atany price!

For accurate results, specify your model below.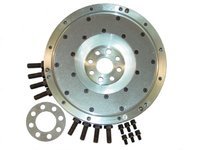 Aluminum flywheels are much lighter than the stock steel flywheel and that produces better throttle response and more available horsepower to the wheels for faster acceleration. The JB Racing aluminum flywheels are a direct replacement for the stock flywheel and work with stock clutch components for an easy upgrade with very little downside.
Modern flywheels are built with additional components and features that are designed to dampen and minimize vibrations from the engine and transmission. As a result they have become bloated in weight and that means more energy is used up just making the flywheel spin. The weight difference between an aluminum and steel flywheel is huge - sometimes more than 50% less. Without the additional mass, more energy can be diverted to where it counts most - moving the car. The flywheel and clutch is one of the first areas that engine builders address when making the rotating assembly lighter for race engines. The dampening effect is just not needed on cars that are focused on performance.
In addition to releasing more power to the wheels, the lighter flywheel allows the engine to spin more freely, which improves throttle response. Again, the difference is huge as you watch the revs build faster than before. With the engine spinning easier the power band comes up much sooner. The stock steel flywheel feels lazy in comparison. There is a driving adjustment required to get used to how much faster the engine revs but that's not really a downside.
The JB lightweight flywheel is designed to be used with a factory organic clutch - the same clutch kit that you would get from any BMW dealer. This makes replacement clutch components easy to source and inexpensive when compared to specialized racing clutches. By using the factory BMW clutch, JB has also made the whole assembly easy to live with when used on the street. The clutch behaves the same as it originally did - just with better throttle response and more power! The JB flywheel can also be rebuilt with a new clutch contact surface - you don't have to buy a new flywheel.
Aluminum flywheels are considered 'single-mass' flywheels because they do not have the same dampening designs as an original 'dual-mass' flywheel. With a single-mass design more noise and vibration may be noticeable. There are steps you can take to minimize the noise - heavier weight transmission oil and clutch discs with anti-rattle springs (sprung-hub clutch). In addition to the standard replacement clutches, we also sell Sachs Performance sprung hub clutches that also work with the JB flywheels.
Stock Flywheel Weight = 25.0lbs
JB Flywheel Weight = 10.0lbs
This item fits the following BMWs:
2001-2006
E46 BMW
M3 (6-speed manual only, not for SMG)

Part #: 520-140-240M3
Direct Ship
Free Shipping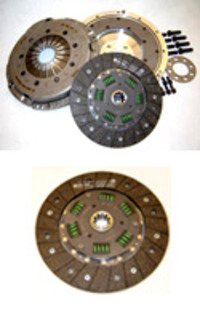 This lightweight aluminum flywheel w/ Heavy Duty "sprung-hub" clutch package is the best-engineered solution for the BMW E36, E46, Z3, and Z4 models. Instead of picking a clutch from another car that may or may not work at all, the engineers at JB Racing have taken all of the guess work out of this upgrade and incorporated a Sachs HD sprung hub clutch with the correct pressure plate and combined it with our most-popular aluminum lightweight flywheel. The Sachs HD clutch disc has a sprung hub to minimize noise and vibration and organic linings to give the feel and engagement of a stock clutch. Mixing and matching of the incorrect clutch, pressure plate, and flywheel components can lead to inconsistent engagement and feel -- why make your clutch feel worse?
In addition, the Sachs HD pressure plate will clamp with greater force -- allowing approximately 350 ft-lbs of torque,which makes it an obvious upgrade from the stock clutch kit. And with the aluminum flywheel weight savings is substantial over the stock dual-mass flywheel - which allows your motor to spool up faster and transmit more HP to the ground.
Because Sachs is an OE supplier to most German cars, replacement parts are just a phone call away. This kit uses the stock throw-out bearing (included in the price!).
BMW Fitment/Applications:
1992-1999
E36 3 Series
325i, 325is, 328i 328is, 323is
1995-1999
E36 M3
1999-2005
E46 3 Series
323i, 323Ci, 325i, 325Ci, 328i, 328Ci, 330i, 330Ci (with 5-speed transmission)
1997-2002
Z3 Roadster/Coupe
with 2.3, 2.5, 2.8 or 3.0 engine
1998-2002
MZ3 M Roadster & M Coupe
2003-2005
Z4 Roadster/Coupe
Z4 2.5, Z4 3.0 (5-speed transmission)

Part #: 520-010S-
Ships in 1 day


The ultimate in a racing flywheel and clutch! This was developed for use in our E36 and E46 World Challenge Touring Cars. The combined weight of the clutch and flywheel is only 11lbs!!!
This multi-disc (2 or 3 disc setups) offer a minimal flywheel mass (enough to include a factory ring gear for the starter) and a small 5.5" clutch assembly rated to 500ft-lbs. By saving as much weight as possible less energy is used in simply spinning the flywheel/clutch assembly and that means a lot more power and torque is available at the drive wheels. The flywheel and clutch is one of the first areas that engine builders address when making the rotating assembly lighter for race engines and this is among the most advanced and lightest racing clutch kits available for your BMW race car.
The JB Ultra-Light Performance racing clutch is available in 2-disc or 3-disc setups. A 3-disc setup is less susceptible to heat and will have a higher torque capacity. On our M54-powered 325i Touring Cars (approximately 300hp) we used the 5.5"/140mm 2-disc configuration. The 5.5" clutch was a perfect blend of performance and durability. It wasn't too small to suffer from high temperatures and wasn't too large that it couldn't be slipped (slipping prevents damage to other components). This is a turn-key racing clutch and flywheel kit that you don't have to engineer or spec yourself. This is the same clutch setup we used when winning the 2003 and 2004 Touring Car Championships - the quality and performance is unquestionable. That series also employed standing starts at each race and this clutch setup performed flawlessly with nearly a full season of racing on them before needing a change.
JB Ultra-Light flywheels include:
precision CNC machined aluminum flywheel
zero-balanced
replaceable hardened steel clutch friction surface
Helicoil threaded inserts
high-strength grade 10.9 hardware
multi-disc Sachs or Powertrain Technology racing clutch with racing pressure plate
JB Racing throw-out bearing with custom bobbin
This is a true racing clutch and will not function as a street-able clutch at all. It behaves as an on/off switch with no slippage allowed. Extreme care must be used when driving on to trailers and around the paddock. But when driven correctly the life span of this clutch is amazing - we could get a full season of racing a 300hp M54 from this clutch setup including standing starts at every race! Replacement clutch components and flywheel rebuilding are available.

A properly adjusted clutch stop is required for use with this clutch kit.

Stock Flywheel + Clutch Weight = 45+lbs
JB Ultra-Light Flywheel & Clutch Weight = 11lbs

This item fits the following BMWs:
2001-2006 E46 BMW M3


Part #: WCCLUTCH-E46M3
Direct Ship
Free Shipping