BMW E46 M3 Crankcase Vent, PCV, and Oil Separator Systems

Every car has a crankcase vent system that is supposed to suppress oil from making it into the intake ports and combustion chamber. A good functioning system will separate oil from the atmosphere and return it to the oil pan (or collect it in a catch can) while allowing the leftover vapors to burn in the combustion chamber or recirculate through the system. This has always been known as a PCV system (Positive Crankcase Ventilation) but BMW has several other names for it - oil separator, crankcase vent (CCV), and cyclonic separator. Failures in the system will allow raw oil to enter the intake and eventually into the engine itself which can have disastrous effects on engine performance and longevity. As emissions regulations on oil and gas venting have gotten more stringent the PCV systems have gotten more complex and failure prone. And because the CCV is intertwined with other systems you could have rough running, loss of power, higher oil consumption, misfiring, stalling, or other annoying issues. There is no replacement interval for these so we recommend inspecting your crankcase vent system as part of your regular maintenance routines. Symptoms of a bad crankcase vent are: whitish or yellowish film on the underside of the oil cap, whistling/squealing noises (not caused by a belt), suction on the oil cap that makes it hard to unscrew, large amounts of white smoke from the exhaust, and excessive oil consumption.

For accurate results, specify your model below.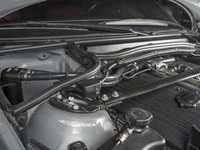 Modern day emissions regulations require the use of a closed crankcase ventilation (PCV) system to recirculate combustion blow-by gases from the crankcase back in to the intake to be burned. Unfortunately, these blow by gases contain water vapor (which is a byproduct of combustion) and pick up oil mist from and the windage cloud and cam lubrication system as they travel through the crank case. Due to less than 100% effective air/oil separation in the stock PCV system, some oil mist and water vapor gets carried back to the intake tract and over time cause oil deposits in the intake manifold, intake ports, and on the back of intake valves. All will eventually lead to poor performance and reduced fuel economy, and the presence of this oil mist in the intake charge may even increase the risk of engine-damaging detonation.
With forced induction, track use, and/or extended high RPM usage, these symptoms increase as the factory PCV system is overwhelmed, and a catch can becomes a must for your E46 M3. This kit is a direct fit making this an easy reversal if desired as well as maintaining a clean appearance by utilizing the open "smuggler's compartment" on the passenger side of the engine bay.
ECS engineers developed a catch can that utilizes a strategically designed 4 chamber baffle plate system engineered to create multiple changes in the direction of airflow to cause oil droplets to fall out of suspension, maximizing the efficiency of the PCV air/oil separation. A dipstick is integrated into the cap so you can monitor the oil level, and the can is easily serviced. At each oil change simply unscrew the canister and empty the trapped oil with your regular used oil. The ECS Oil Catch Can is CNC machined from billet 6061-T6 aluminum and with a stealthy black anodized finish for lasting durability and appearance, and includes everything needed for an OEM-like fully reversible installation.
The ECS Oil Catch Can is made from aluminum and with a stealthy black anodized finish. The location is key as heat will evaporate the oil and send too much vapor back into the engine (where cooler air will turn it back into fluid). The ECS OCC also has a factory-like appearance. Having a kit designed specifically for your E46 M3 makes for a clean looking setup that any skill level mechanic can install.

Note: Since the crankcase vent system is considered part of the overall emissions system, installing this may be a violation of local, state, and federal laws. While exemptions are made for track/race and off-road use, check with your local state inspection facility on using this in street-driven vehicles.
ECS Oil Catch Can Features:
+ Increases air intake efficiency
+ Promotes engine longevity
+ 4 chamber design promotes excellent air/oil separation
+ Large In/Out ports (no tapered sizes that slow flow)
+ Anodized black lightweight aluminum
+ Made in USA
This item fits the following BMWs
E46 M3 2001-2006