E46 M3 Dinan BMW Intake Kits
Your engine can't make more power without more air. Dinan BMW intake upgrades are engineered to efficiently deliver colder, denser air into the engine. Most Dinan intakes reposition the air filter to a new location where it won't draw heat soaked air from the engine bay. Bigger diameter tubing and filters with more surface area contribute to better flow. More cooler air will make more horsepower. Each intake is specially designed for the particular model using CAD technology and features advanced materials such as carbon fiber and aluminum which also look attractive in the engine bay.

For accurate results, specify your model below.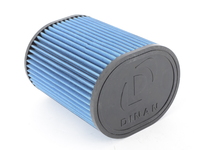 Replacement filter for your high flow intake system.
For over 35 years, Dinan has been America's premier tuning company, pioneering advancements in BMW modification while retaining a focus on balanced performance that preserves the original character and driving feel that a BMW offers. When you install a Dinan part on your car, know that it's not only carefully developed and tested, but that Dinan stands behind it with a four year, 50,000-mile warranty. Dinan believes so fully in their "total package" approach that once your car has been fitted with enough of their parts, they celebrate your conversion from stock to Dinan with an exclusive trunk badge, displayed proudly by BMW enthusiasts everywhere. Each sway bar is worth 1 point towards your Dinan badge.
Fits the following BMW's:2001-2006 E46 BMW M3

Part #: D401-0440
In Stock