A performance exhaust is a modification that you get constant benefit from - at every change of the throttle you are rewarded with that tuned sound. It's not like other modifications where you may not realize all of its benefits all the time. It's an upgrade that you enjoy at all times when you're behind the wheel. We offer exhaust upgrades from multiple performance manufacturers like Borla, Corsa, Supersprint, and Akrapovic but we have also developed or sourced other exhaust systems to meet specific needs.
CNC Machined from 6061 Aluminum, this plate is made specifically for blocking off EGR ports on S54, M54, and S50B32 Euro engines. Intended for track use only.
*does not fit S50B30 Euro engines*
This fits the following vehicles:
E46 BMW w/ S54 and M54 motor
E36 BMW Euro vehicles with S50B32 motor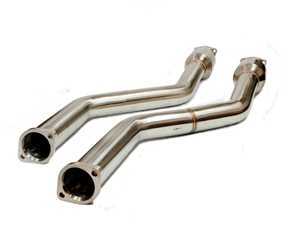 The Active Autowerke Exhaust SECTION 1 only comes into play if the E46 M3 already has a performance header already installed. One will experience a high smell of unburnt fuel. (due to the open exhaust w/o any catalysts) and development of a RASPY like sound of which the BMW S54 engine is notorious for with the BMW Stock Section 1 when equipped. This raspy like sound is a matter of engine sound harmonics at a specific RPM range, a sort of resonance that is very loud and noticeable when the engine is revving at or above 4,000 rpm
With the Active Autowerke Exhaust SECTION 1 installed, the BMW performance gains are about the same as running the factory section 1. However, that's impressive considering the exhaust flow is also being filtered while running through a pair of 100 cell catalysts. The power and performance is still there.
E46 Section One Features:
Dyno-tested & Track Proven
Brushed 100% 304 stainless steel construction
Pair of 100 CELL Hi-Flow metallic exhaust catalysts included
Easy installation, no instructions necessary
Two-year warranty with free tech support