BMW E46 M3 K&N Performance Air Filters
This is absolutely the least expensive and easiest way to improve horsepower and extend the life of your air filter! The sandwiched layers of cotton gauze, specially treated with K&N air filter oil, provides five times more filtering surface over the element circumference. This serves to smooth incoming air flow while reducing intake restriction and thereby boosting horsepower. K&N Performance Air Filters come pre-oiled for easy installation and with K&N's famous 1,000,000 mile warranty. K&N filters are easy to clean: wash with cold water every year and re-oil it every two years for a lifetime of performance.

For accurate results, specify your model below.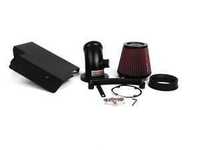 Built for performance and show, the Typhoon® Air Intake System is a free-flowing mandrel-bent aluminum tube induction system designed to fit many sport compact performance vehicles. Each kit is proven on a rear-wheel dynamometer to increase horsepower and torque. Typhoon intakes come in one of three designs; cold air intakes (CA), short ram intakes (SR), or complete cold air (CCA) intakes which can be configured as either a cold air intake or a short ram intake. Available in an assortment of powder coated colors and polished aluminum, these kits are sure to please in every way. They come with an oversized High-Flow conical air filter designed to provide increased surface area and dust capacity. This extra surface area provides even more airflow at lower restriction than a standard K&N O/E replacement filter that is limited to the size of the factory air box. The oversize air filter also captures more dirt increasing the service life before a cleaning is required (up to 100,000 miles).
69-2001TWK Product Specifications
Product Style: 69 Series Typhoon Kits
Estimated Horsepower Gain: 8.9 HP @ 6000 RPM
Color: Black
Replacement Filter: RP-5113
CARB Exempt: No
System Type: Short-ram intake system
Weight: 8.7 lb (3.9 kg)
Product Box Length: 19.3 in (490 mm)
Product Box Width: 14.5 in (368 mm)
Product Box Height: 8.4 in (213 mm)

Clickhere for installation instructions.
Part #: 69-2001TWK
Free Shipping