BMW E46 M3 Oil Filters & Oil Filter Kits
What is more important to your engine than its oil supply? You can change your oil as many times as you want but if you don't change the oil filter you might as well dump the old oil back in! Replace your oil filter with every oil change (per BMW's recommendation) and you'll never worry about dirty oil again. We supply filters from the OEM Suppliers to BMW - Mahle, Mann, or OE BMW.

For accurate results, specify your model below.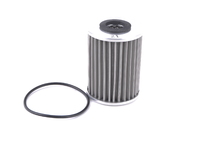 Stainless steel filtration is not a new technology but is quickly gaining popularity in the automotive segment. With the ability to filter down as small as a paper filter element with the ability to be washed and reused!
The K&P Engineering filter element is made from medical grade, type 304 stainless steel micronic filter cloth to provide unmatched protection against oil contamination and resultant engine damage. A one inch square of this material flows an incredible 1.9 gallons of oil per minute at only 1 PSI pump pressure. The adhesive used in the filter assembly process is good to 600 degrees Fahrenheit, far above normal engine operating temperatures. A super strength nickel-plated neodymium rare earth magnet is installed in the top of the element for magnetic pre-filtering of the oil. The sophisticated bypass is engineered for proper differential pressures and consistent operation, delivering a greater percentage of filtered oil while being very easy to clean. The twist lock design assures positive filter element placement and allows for easy disassembly, inspection, and cleaning. The quad-ring gasket doubles the seal between the filter and the engine. Finally, the filter housing is carved out of solid 6061T6 billet aluminum, which not only looks trick but aids in dissipating heat.
K&P Engineering manufactures stainless steel filters for a vast array of engines around the world. Staying at the forefront of design and testing allows this company to offer a top-tier product for your European vehicle.
Features:
Consistent filtering across entire filter surface
Superior ASTMF316 filtration performance
7 times the flow of comparable paper oil filters
Magnetic Prefiltering
Progressive rate bypass combined with high flow characteristics of the filter media avoids unfiltered oil bypassing the filter during cold startup and high rpm
No more cutting apart messy paper filters for trapped debris inspection
Proven in Motorsports, Military and Aerospace applications for years. Technology is FAA approved for use in aircraft.
At regular oil changes, clean to K&P's specifications for continued used - a true lifetime filter.

This product fits the following BMWs:
1995 - 1999 E36 M3
2001 - 2006 E46 M3
1998 - 2002 E36/8 Z3 M Coupe
1998 - 2002 E36/7 Z3 M Roadster
2006 - 2008 E86 Z4 M Coupe
2006 - 2008 E85 Z4 M Roadster

Part #: S21
In Stock

Free Shipping
on orders $199 and up
This is the replacement OEM oil filter kit for the S54 engine, as used in the E46 M3, Z4 M Roadster and M Coupe, as well as the 2001-2002 MZ3 M Roadster/Coupe (with S54 engine). This is the complete oil filter kit - filter, large o-ring for filter housing cover, small o-ring for bolt seal, flat washer for bolt, and copper seal ring for the drain bolt. It's everything you would need to complete an oil change - minus the Castrol 10W60 oil of course, which we sell at a great price. This kit is manufactured by Mahle - the original supplier to BMW for the 11427833769 BMW filter (factory filters come with the Mahle part number OX 187 printed on the cap).
Why Mahle over Mann? In the past we have sold a few different oil filters for the E46 M3 and S54 engines. But Mahle is the true OEM supplier for this part number. It fits perfectly and is the exact replacement part at nearly the same price as the slightly different Mann filter (and less than the factory BMW filter). For more detail,
click here.
This filter fits the following BMWs:
2001-2006
E46 M3
2001-2002
MZ3
- M Roadster & M Coupe (S54)
2006-2008
MZ4
- M Roadster & M Coupe

Part #: 11427833769ML
In Stock

Free Shipping
on orders $199 and up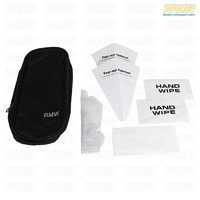 This Genuine BMW oil travel case is perfect for holding a 1 liter /1 quart oil bottle for topping up between oil changes. The case has 3 velcro strips on the back to secure the case inside of the trunk. Case includes 2 hand wipes, 2 laminated cardboard funnels, 2 plastic gloves, and 2 cleaning cloths.

Part #: 83292158848
In Stock

Free Shipping
on orders $199 and up