BMW E46 Painted Reflectors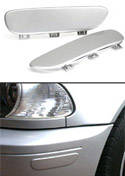 Reflectors were added to BMW models for the US market only to meet DOT visibility recommendations. They are garrish and cruel add-ons that fulfill their purpose but grossly detract from BMW's styling. The best solution would be to buy European body panels that are smooth and don't have the holes and cutouts for the reflectors. Aside from that expensive route you can buy these reflectors that are color matched to the body color. Our reflectors start out as a mold from the original BMW reflector for a precise and excellent fit. They are then painted by a professional bodyshop with the factory BMW paint code for a beautiful match. The original reflector pops out from the body and the new one snaps right in (a careful technique is still required as you're dealing with thin plastic).

For accurate results, specify your model below.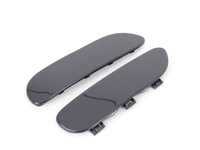 These replacements are easily installed and dramatically change the appearance of your vehicle. Our body colored reflectors are actually the same original reflectors that currently sit in your cars bumper, but are painted the exact color of your vehicle by a CERTIFIED PROFESSIONAL REFINISHER, so that they blend in perfectly with your bumper. No glue or adhesive of any kind is required to install these reflectors, they simply snap into place into the same holes as your originals.
Note:
Paint will match the color of a brand new vehicle painted in that color. On certain colors, exposure to the sun will slightly change/fade the color of the vehicle, especially with older vehicles or vehicles in warm climates. Foroff road use only!
These reflectors fit the
PRE-FACELIFT
(2000-2003) Coupe and all E46 M3.
IF YOU DO NOT KNOW YOUR PAINT COLOR
: If you open the hood you will
find that on one of the shock towers, probably passenger side, there will be a
black label, on this label will be the color name written in German along with
the paint code number at the bottom. Only the numbers before the / are required.
This is your paint code.
This item fits the following BMWs:
1999-2003
E46 BMW
323ci 325ci 328ci 330ci
2001-2006
E46 BMW
M3 M3 Convertible

Part #: REF461
Ships on May 3, 2018

Free Shipping
on orders $99 and up