E46 Stand Alone Aftermarket Engine Management
For full race or track-only cars, an aftermarket engine management system provides enormous benefits over a stock ECU system. Modern ECU systems are not designed for racing and track use. The engineers have different goals in designing these systems compared to what a motorsports engineer would specify. Racers don't have to be concerned with emissions compliance or OBD diagnostic regulations. All a racer wants is lots of reliable power. And that's where aftermarket engine management - stand alone ECUs - come into play.
We offer stand-alone engine management systems and components from Bosch Motorsport and MoTeC and others. Turner Motorsport has been racing with stand-alone systems for over ten years and have extensive real world experience with building complete systems, existing integration, and providing individual components for upgrades. We have also partnered with Bosch to develop a plug-and-play Motorsport ECU that is integrated with factory wiring harnesses.

For accurate results, specify your model below.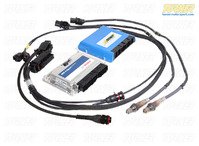 Stand Alone Control and Direct Plug-In with Effortless Power Gains!!!
Instant Power!
(max gains over stock)
Bosch ECU swap (no other changes)+24hp+16ft-lbs
Bosch ECU with headers+56hp+34ft-lbs
Bosch ECU with headers and cams+76hp+50ft-lbs
Bosch ECU with 3.5L stroker kit
(gains over existing stroker tune)+33hp+18ft-lbs
Bosch ECU with supercharger kit
(gains over existing s/c tune)+48hp+23ft-lbs
Everyone at the track will agree that stand alone ECUs give the most control and the best access for tuning. The obstacle with stand alones has traditionally been the cost and time. Bosch Motorsport and Turner Motorsport have teamed up to offer an affordable, plug-and-play, and fully tunable stand alone ECU system for the E46 M3. The Bosch Motorsport ECU opens the doors for unlimited tuning potential and instant power and reliability benefits over the stock BMW MSS54 ECU. The Bosch Motorsport plug-n-play ECU cuts through all of the hassle and additional work that normally comes with switching to a stand alone management system. It also leapfrogs the factory system in advanced tuning and reliability. This is a must-have system for owners of E46 M3 race and track cars. Pound for pound the factory ECU just doesn't stack up.
The advantages of the Bosch Motorsport system are ENORMOUS:
+ immediate power and torque gains
+ all-in-one system with direct plug-in to existing wiring and dash cluster
+ full access and control over engine mapping
+ low cost compared to other engine management systems
+ no interference or limp modes like the factory ECU
+ base map file included (the Bosch ECU holds 3)
+ access to upgrade-specific map files and updates
The factory MSS54 ECU is a compromise on multiple levels. It's purpose is NOT to make large amounts of horsepower or allow access to its internal code for changes. There have been great breakthroughs in reverse engineering the stock ECU but the fact remains it was never intended to be a true race ECU. The factory ECU and oxygen sensors are there for controlling emissions and fuel economy. The emphasis is on control - it is in BMW's best interest to lock out changes to the ECU so that the car conforms to emissions and fuel economy standards. While mild tuning for the street is not a problem (such as with our Shark Injector software), the factory ECU will fight major changes every step of the way.
Our partnership with Bosch Motorsport goes back a long time. When we switched from a full stand alone to the Bosch ECU on our E46 M3 racecars we instantly made more power. When we realized there was a need for a plug-and-play alternative to the stock E46 M3 ECU the Bosch MS4.0 ECU was the first to come to mind. Stand-alone race ECU systems are ideal for making large amounts of reliable power but until now they were too expensive and too complicated. A full stand lone system will cost tens of thousands of dollars and require hours of installation and fabrication work for the sensors, wiring harnesses, communications platforms, and more. Our Bosch Motorsport system gives you all of the control of a stand-alone but works with the existing wiring and sensors in the E46 M3, including the instrument cluster and dash! This is thanks to the special translator interface box that we developed and allows the Bosch ECU to communicate with the stock VAN0S, drive-by-wire, cooling and oil systems, ABS, and more. The Bosch ECU works with the more advanced Bosch LSU4.9 wideband oxygen sensors which replace the two stock pre-cat O2 sensors. We strongly recommend that you replace your spark plugs and ignition coils with the latest BMW part numbers before installing this system. You can be up and running with the complete Bosch system in about an hour! Yes, one hour! Plug in the ECU and translator box and swap the front O2 sensors and you're done. You can revert back to stock just as easily. To get reliable power means removing interference from emissions equipment or OBD oversight and eliminate the possibility of a race-ending limp mode or fault code. The Bosch ECU system eliminates layers of complexity to give you what you really want: power and control.
Our Bosch ECU system comes pre-installed with a base engine map that closely matches your existing engine spec. We developed multiple tuning maps on our Dynapack chassis dyno using popular bolt-on S54 power upgrades: headers, intakes, cams, superchargers, etc. Straight away our base tune gained 24hp. With headers and cat delete, over 50! Our base supercharger file gained almost 50hp more than the tune that came with the kit! A 3.5L stroker engine gained over 30hp from the best file supplied by the engine builder! We provide you with a base map closely matched with your existing modifications. You then have the ability, if needed, to make adjustments to optimize the output using the Bosch PC software. Unlike the factory ECU there is no limit to the number of flashes you can make on the Bosch ECU.
Have any questions or need additional info? Give us a call or drop an e-mail. Talk it over with your shop or tuner. Or have your shop or engine builder give us a call! If they are serious about tuning then they know the limitations of the stock ECU and the advantages of a stand-alone like our system. Many race shops around the US and Europe already have extensive experience with the Bosch Motorsport equipment but our's was the first time the system has been engineered to work with a stock E46 M3 harness. Dealer inquiries invited!
Bosch Motorsport E46 M3 ECU System includes:
- Bosch Motorsport MS4.0 ECU
- E46 M3-specific Translator Box
- Bosch Motorsport LSU4.9 wideband Lambda sensors (x 2)
- Turner Motorsport base software tuning file
Optional items:
Expansion Harness - for data logging and aux port
For a lot more in-depth information on our Bosch standalone ECU system, including dyno examples of our work, click to our detailed tech page.
This item fits the following BMWs:
2001-2006 E46 BMW M3 6MT manual transmission only
2001-2002 Z3 BMW Z3 M Roadster M Coupe (S54)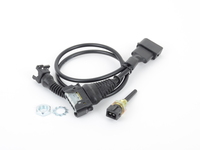 If you've ever noticed your car feeling a bit sluggish after a few laps around the track, some hard driving, or even sitting in traffic on a hot day you may have been a victim of power loss due to heat soak. All vehicles will lose some degree of performance due to heat soak under the right operating conditions. The engine management system is constantly monitoring operating conditions and modifying parameters based on sensor inputs. The problem is that BMW integrated the intake air temp sensor in the MAF housing, and often the MAF is sandwiched behind a hot radiator and in some applications next to an even hotter valve cover. This is fine for overall simplicity and cost of the original engine management system, but less than ideal for optimal performance. The MAF housing absorbs the excess heat from its surroundings and can't shed it fast enough, and the ECU reads a falsely high intake air temperature. It then incorrectly adjusts operating parameters to compensate for the false hot air measurement (pulling timing and running a leaner fuel mixture), and torque output drops like a rock.
The fix? Locate an intake air temp sensor in a location where it can more accurately measure incoming air temps and where it is less prone to heat soak. By mounting a sensor further away from the heat source and divorcing it from the mass of the MAF housing, it can both resist the effects of heat soak longer and respond to temperature changes more quickly. The end result? You'll experience reduced loss in torque and more consistent power output when you're pushing your engine hard.
The Turner engineering team was initially skeptical of the claimed performance benefits of this modification. We set out to first validate the functionality and performance benefit of a temp sensor relocation. We set out to replicate stop-and-go traffic heat soak in a 2001 540i in a controlled environment - our dynamometer. Four runs were performed with the dyno's cooling fans turned off to simulate heat soak like being stuck in traffic or low speeds, then the fans were turned on for three more runs to observe the recovery rate once air flow was reintroduced. This was done in stock configuration and then repeated with our sensor relocation kit.
Result? We recovered 11lb-ft torque at 2500rpm by relocating the temperature sensor! This is a difference that can be felt behind the wheel - owners of M5s can expect an even larger recovery. Here are the heat soak-related torque losses we experienced:
Stock IAT location Torque loss:
18rwtq at 2500rpm
10rwtq at 3000rpm
9rwtq at 3700rpm
Turner IAT Relocation Torque loss:
7rwtq at 2500rpm
5rwtq at 3000rpm
5rwtq at 3700rpm
Other "kits" on the market require you to cut and splice into your factory wiring harness. The Turner engineering team designed a complete plug and play kit that makes for quick, easy, and reversible installation. Original equipment weather-sealed connectors offer long term reliability, while sheathed wiring offers a clean appearance - you'll quickly forget it's under the hood. We found that different applications called for slightly different sensor positioning and cable routing, so our harness is nearly 3 feet long - long enough to provide flexibility in positioning, but not too long that you're left with unsightly excess wiring. We recommend positioning the sensor in a location away from engine heat, but still within the intake ducting (we found the far side of the airbox base to be a good home). Installation is as simple as drilling a small hole for the sensor and plugging in the harness.
We include everything you need to relocate your IAT - just select your desired sensor brand below (we recommend Beru).
Also the perfect plug-n-play option for anyone looking to upgrade their intake to utilize an Alpha-N tune!
Turner IAT Relocation Kit fits the following BMWs:
1999-2001 E38 BMW 740i 740il
1999-2003 E39 BMW 540i M5*
2006-2010 E6X BMW M5 M6*
2000-2003 E53 BMW X5 4.4i 4.6is
2001-2006 E46 BMW M3
2001-2002 MZ3 BMW M Coupe M Roadster
2006-2008 MZ4 BMW M Coupe M Roadster
*Despite the M5 having two MAF, temperature is only detected on the passenger side MAF, and therefore only one relocation is required.