BMW E46 Oil Pan Baffles

Keeping the oil near the oil pump is crucial for the system to work correctly. Unfortunately, some BMW models suffer from oil starvation on the track. During cornering, G forces slosh the oil away from the oil pump pickup. Cornering for long periods of time (oval bankings, for instance) can starve the engine of enough oil to lead to catastrophic failure. We offer oil pan baffles that pool enough oil around the pickup that starvation is virtually eliminated. These kits are an absolute MUST for track-driven cars and have been developed and proven over our long motorsports history.

For accurate results, specify your model below.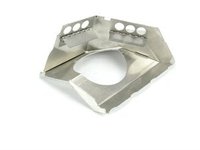 Made in the USA from lightweight aluminum and designed specifically for the E46 oil pan, HARD Motorsport's baffles prevent oil from sloshing forward under heavy braking, helping to prevent oil starvation. Any amount of oil starvation can lead to valve ticking and increased engine wear. This is especially helpful for track cars that experience hard cornering and rapid breaking.
Fits the following vehicles:
1998 - 08/2006 E46 BMW All Sub-models
01/2002 - 11/2005 E85 BMW Z4

Part #: OILBAFFLE.E46
Price: $162.00 (USD)
$180.00
(Sale - Save 10%)
Back Ordered
Free Shipping