BMW E46 Exhaust System Upgrades

A performance exhaust is a modification that you get constant benefit from - at every change of the throttle you are rewarded with that tuned sound. It's not like other modifications where you may not realize all of its benefits all the time. It's an upgrade that you enjoy at all times when you're behind the wheel. We offer exhaust upgrades from multiple performance manufacturers like Borla, Corsa, Supersprint, and Akrapovic but we have also developed or sourced other exhaust systems to meet specific needs.

For accurate results, specify your model below.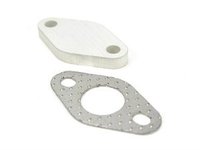 CNC Machined from 6061 Aluminum, this plate is made specifically for blocking off EGR ports on S54, M54, and S50B32 Euro engines. Intended for track use only.
*does not fit S50B30 Euro engines*
This fits the following vehicles:
E46 BMW w/ S54 and M54 motor
E36 BMW Euro vehicles with S50B32 motor

Part #: EGRBLOCK.E46M
In Stock
Free Shipping

This is the exhaust for the Spec E46 racing series and listed in the SE46 rules (
http://spece46.com/spece46-regulations/
). Per SE46 rules, this must be used with stock E36 OBD-II exhaust manifolds that are sold separately. Together with the E36 manifolds this complete system eliminates the catalytic converters without the need to extensively modify the stock E46 exhaust. It's Made in the USA by Magnaflow with 3" stainless and mandrel-bent piping. The entire system, especially the front Y-pipe, has been designed to provide the least exhaust obstruction and promote flow. The front Y-pipe and merge collector simulates an equal-length header when used with the E36 OBD-II manifolds. V-band clamps make it easy to work on the exhaust or chassis in sections rather than dropping the entire exhaust system. A center resonator and rear muffler have been designed to cut noise levels for the more restrictive tracks.
E36 OBD-II exhaust manifolds required (1996-1999 E36 328i/M3).
These can be purchased new but good used manifolds should be easy to find.
This is a race-only part and intended only for use in the Spec E46 racing series. Because this part alters or deletes the emissions equipment on your car we require a waiver of emissions compliance to be signed and sent in to Turner Motorsport.
You can download the waiver here.
This item fits the following BMWs:
2001-2005
SpecE46 BMW
330i 330ci (LHD only)

Part #: SE46-EXHAUST-R
Ships in 8 days