Get the wide look without buying new wheels!
BMW leaves a lot of extra space between the tire and fender. This is amplified when lowering the ride height. By pushing the wheel out further you improve the looks and the handling at the same time! The wheels sit flush with the fender for a smoother appearance. And widening the stance will give you more stability and better handling.
Spacer sizing depends on your wheel, tire, and suspension setup. Most stock BMWs will take a 10-15mm in the front or rear. We encourage our customers to measure for wheel gap before ordering. This ensures you get the final stance and clearance you're after. Measuring is quick and easy -
click here for tips on measuring
.
Turner Motorsport is the first American BMW tuner to put engineering principles into wheel spacer design. We have set the bar for fitment, lightness, practicality, and longevity. After almost 20 years in the business we wanted a spacer with the features and tricks we always wanted, so we started with a clean sheet of paper. The market took notice and now many Turner innovations can be found on our competitor's products.
Turner Wheel Spacers are still the best!+ Quick Release Pockets
&nbspSpacers need to be removed from time to time and it's not uncommon for them to be stuck to the hub. Most spacer companies would tell you to hammer them off with a chisel. Our spacers were the first to feature pockets on the back of the spacer so you can simply pop them off.
+ High Grade Materials
&nbspOur spacers use a very strong and lightweight aluminum compound. It also has a strong resistance to corrosion (one of the main reasons they stick to the hub). Our aluminum grade has the best combination of light weight, strength, and corrosion resistance.
+ Military-Spec Hardcoat
&nbspWe take the extra steps (and cost) and hardcoat our spacers. Hardcoats are stronger than standard anodized metal. This ensures the spacer can withstand abuse and won't dull or change color over time. Turner spacers are available in anthracite grey or black.
+ Precision Machining = No Vibration
&nbspAll Turner spacers are CNC machined in the USA to very tight tolerances. We guarantee a precise and correct fitment for your application so you don't have to worry about vibration. We also machine the spacer to optimize weight without affecting strength.
+ Easy Identification
&nbspWe engrave each spacer with its part number and size for easy identification. We then hardcoat over the engraving to maintain a stealthy appearance.
+ Multiple Bolt/Stud Options
&nbspWe offer our wheel bolts in either factory black or bright silver. And if you track your car, we also have wheel stud and nut options.
To read more about wheel spacers, including measuring and fitment tips,
check out our complete spacer page
.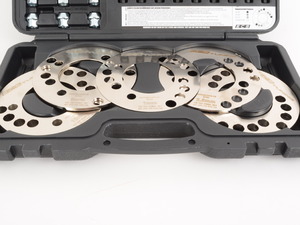 Unsure of what size spacer will work best for you? This professional kit includes 1mm, 2.5mm, 5mm, 10mm, and 15mm spacers with wheel studs and nuts for you play with. These are not the same spacers that we sell and they cannot be used to drive on. But with the studs installed the car can be lowered to the ground and rolled to check for clearances. These test fit spacers are drilled to fit the standard BMW 5x120 bolt pattern as well as 4-lug 4x100 (and VW/Audi bolt patterns too). You can stack spacers to achieve the perfect clearance. When you're ready call us to order the spacers you need (Turner spacers come in 3mm, 5mm, 7.5mm, 10mm, 12.5mm, 15mm, 17.5mm, 20mm, 25mm, and 30mm spacer thicknesses).
These spacers are not for driving on. They lack the hubcentric lip that BMW wheels are designed to work with. Driving on studs alone will lead to a failure.
Two ways to buy -
Own. Just as it says, you buy this kit to own. Perfect for shops or race teams that change wheels or brake components often. For shops you can measure wheel clearance and order the correct spacers the first time around (no wasting inventory or paying return shipping). Note: Kits purchased to Own are not returnable for refunds.
Rent. Pay the full price but get $110 as a store credit when you return the kit. We keep a modest $19.95 fee for the service. Perfect for DIY and enthusiasts who only need the Test Kit once. Use your store credit to purchase your spacers (or anything else from our catalog).
Wheel Spacer FAQ:
How to measure for wheel spacers
Wheel spacer encyclopedia