BMW E53 Engine Performance Packages

Since 1993 Turner Motorsport has been at the forefront of performance tuning for BMWs. We show this best in our tuned Performance Packages, developed along stages for specific BMW models. Each staged Package is tuned in-house, bringing together expertise from our street tuning division, service shop, and race team. Nearly all of our Packages feature custom-tuned performance software from the best names in the business. The software is the best feature in our kits, maximizing power gains while doing nothing to affect engine reliability or driveability. In most cases, Stages are upgradeable - you can jump from one stage to another by purchasing the new parts and revised software (contact us directly about buying parts outside of the Stage). Or jump right into a higher stage by purchasing the complete kit. We'll work with you to select the appropriate parts and a matching software tune. Nearly all of our Packages have been tested and tuned on our in-house Dynapack Chassis Dyno. Our packages are designed for US-spec models only.

For accurate results, specify your model below.

2001-2005 E53 X5 3.0-liter Stage 1 Performance Package
Peak Power Gain:
+13hp / +7ft-lbs
Rev limit:
7000
Octane:
91
or higher
Our Stage 1 kit featuring a cold-air intake kit and performance software. The aFE intake is made from high-quality materials, reducing underhood temperatures and not contributing to heat soak of the air filter. aFe's Stage 2 Intake uses an oiled cotton air filter for maximum air flow and excellent filtration. The kit is supplied complete with heat shield, ABS plastic intake tube, sealing materials, hardware, and install instructions.
The software is tuned by BMW tuning whiz Jim Conforti and supplied with the Shark Injector. The Shark Injector is a do-it-yourself reflash tool that plugs into the OBD diagnostic plug in your dash. With the push of a button, it will copy your stock software and reflash your computer with the performance tune. You can set it back to stock at any time by following the same procedure.
Both of these items work together to bring up huge torque increases and much improved driveability. They provide a solid performance boost with a low upfront cost. For an excellent 'bang for the buck' upgrade, the software and intake are a great choice.
2001-2005 E53 X5 3.0-liter Stage 1 Engine Upgrade includes:
aFe Cold Air Intake
Shark Injector performance software
Applications:
2001-2005 E53 X5 3.0-liter
Part #: TMS2923
Free Shipping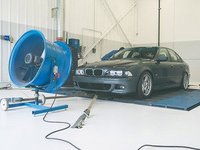 The Turner IAT relocation kit offers a clean installation option to drastically reduce the effects of engine heat soak by moving the sensor to a better, more accurate location. The stock location of the sensor seems to be an oversight by BMW when they combined the IAT with the MAF on several models. Since the MAF is located between the engine and the radiator the housing can become very warm on hot days warming the air inside of that housing. The air temperature being read by the IAT in that location is getting a much warmer reading than it would closer to filter cause the engine to make fuel adjustments.
By relocating your IAT it allows your ECU to pick up much cooler temperatures on those warm days so it doesn't begin to cut back fuel and performance. The gains found with this upgrade are when you reach heat soak temperature range by not losing as much power as you normally would in the MAF location.
This is also perfect for those looking to upgrade to an intake that takes advantage of an Alpha-N tune deleting the need for a MAF!
Part #: 014579TMS

Free Shipping
on orders $200 and up