BMW E53 Intake Manifold Components (DISA, Vacuum, CCV, Etc)
The intake manifold takes incoming air from the intake and distributes it to each cylinder. Over the years the manifolds have gotten more sophisticated and complex. Most of the additional work that it does is emissions-related - recirculating vapors back into the engine to be re-used. But there are also performance innovations such as BMW's DISA variable intake runners. All of the modern innovations have a part behind it and here you will find replacement components.
In some BMW models there are performance improvements with intake manifolds. These intake manifold upgrades use mostly BMW parts and are a direct replacement for your stock manifold. We offer manifolds and kits to make the conversion work easier.

For accurate results, specify your model below.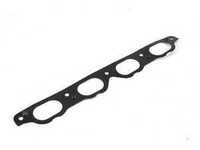 This is the Genuine BMW steel intake manifold gasket for N62 V8 engines. The gaskets are typically replaced anytime the intake manifold is removed. Sold individually.
This item fits the following BMWs:
2004-2005
E60 BMW
545i
2004-2005
E63 BMW
645ci
2002-2005
E65 BMW
745i 745lii
2004-2006
E53 BMW
X5 4.4i X5 4.8is

Part #: 11617521181

Free Shipping
on orders $199 and up

Rough or hunting idle? Stalling? Sputtering? These are all symptoms of poor fuel delivery or a vacuum leak in your intake system. The idle control valve is one of the areas that you can check to fix these issues. The ICV is basically a electrically-driven throttle body that regulates the air/fuel mixture at light throttle openings. Over time, the ICV can become gummed up with oil and carbon, resulting in slow or blocked operation. Worst case, the electric motor inside will freeze which will stall the engine.
The ICV will typically need to be cleaned or replaced every 100k miles. It can be cleaned with carb cleaner but for seriously dirty or old ICVs you may want to replace the whole unit with a new one. There is also a hard rubber seal between the ICV and the manifold and this should be replaced as well. You may also want to replace the Crankcase Vent Valve as it can also fill up with oil and carbon and replacement can be done at the same time as the ICV.
Add a new ICV to your M50 Manifold Upgrade to save time and money!
This is a new OEM Bosch idle control valve. We offer a new sealing grommet as an option below in case you need to replace your dry or cracked seal..
13411744713 - idle control valve
13411733217 - sealing grommet (optional)
This idle control valve fits the following BMWs:
1992-1998
E36 BMW
323is 323ic 325i 325is 325ic 328i 328is 328ic M3
1999-2005
E46 BMW
323i 323ci 325i 325ci 325xi 328i 328ci 330i 330ci 330xi
1989-1995
E34 BMW
525i
1997-2003
E39 BMW
525i 528i 530i
2004-2005
E60 BMW
525i 530i
2000-2006
E53 BMW
X5 3.0i
1997-2002
Z3 BMW
Z3 2.3 Z3 2.5i Z3 2.8 Z3 3.0i M Roadster M Coupe (except S54)
2003-2005
E85 BMW
Z4 2.5i Z4 3.0i

Part #: 13411744713

Free Shipping
on orders $199 and up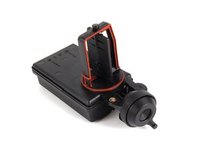 The DISA Valve adjusts the intake manifold runner length to improve performance. When it fails it can lead to a rough idle and perhaps a engine fault code light. This adjusting unit fits E46 325i with M56 engine, 330i, E39 530i, E60 530i 2004-2005 - X3 3.0i 2004-2006 - X5 3.0i 2000-2006 Z3 3.0i, Z4 3.0i 2003-2006. Genuine BMW brand.
This item fits the following BMWs:
2003-2005
E46 BMW
325i 325ci 325xi only with M56 engine
2001-2005
E46 BMW
330i 330ci 330xi
2001-2003
E39 BMW
530i
2004-2005
E60 BMW
530i 530xi
2004-2006
E83 BMW
X3 3.0i
2000-2006
E53 BMW
X5 3.0i
2000-2002
Z3 BMW
Z3 3.0i
2003-2006
E85 BMW
Z4 3.0i

Part #: 11617544805
Free Shipping