Hood pins are a smart modification to make for track and race cars. Hood pins and the newer AeroCatch latches allow someone to open the hood from the outside without using the original latch mechanism or having to pull the handle from inside the car (impossible for a driver belted into the car). Hood pins are also an inexpensive to rusty/crusty original replacement BMW latch kits. If the original hood latch on your track car is broken, stuck or the hood latch cable is binding or stiff then it may be time for a set of hood pins or AeroCatches. Adding a hood pin kit is a permanent modification to your car as it requires drilling holes in your hood and a supporting structure underneath.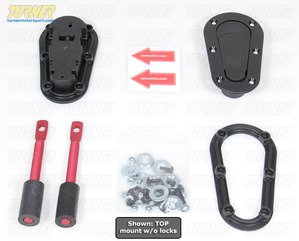 As used by Turner Motorsport on our championship winning BMW race cars, the new aerodynamically efficient and asthetically styled AeroCatch(r) is setting new standards in hood fixing for the 21st century. Say goodbye to your standard hood pins -- these are better all around.

AeroCatch works better than traditional hood pins by providing more surface area for the latch to secure to and an overall stronger latch design with stainless steel and aluminum hardware. While being a stout piece these are also relatively light weight and mount flush with your bodywork, ensuring aerodynamic efficiency and a slick appearance.


The AeroCatch is available in two installation styles:
1.) TOP MOUNT - Mounts from the top exterior surface of the hood. More of the AeroCatch is visible including the frame around the housing.
2.) BOTTOM MOUNT - Mounts flush from the bottom interior side of the hood. This style is slightly harder to mount because your holes must be drilled from underneath, but less of the AeroCatch is visible from the outside.

Each AeroCatch hood fastener kit comes complete with two AeroCatch housing assemblies, all pins, washers, nuts and screws, underhood mounting frames (new on most kits for 2013), as well as mounting templates and installation instructions. Professional installation recommended. When installing over a less than flush surface (a curved hood), black silicone sealant can be used to fill gaps. We have found these to be the best hood fasteners, and have since replaced all standard racing hood pins on our E46, E90 and E92 race cars in favor of this superior design. These save us precious time in pit stops and offer a more fail-safe mechanism. We recommend them for any car*.

* Note: the AeroCatch has a depth below the hood of 22-25mm. Therefore you must have this sufficient clearance between your mounting location and the bottom of your hood. Use the Tech Specs listed below and plan carefully. For a sample installation from a customer's BMW E36, click here.



Secure your investment!
Add keyed locks to your pair of AeroCatches -- PERFECT for use on a street car, or any car that may be left unattended for any amount of time. Keep prying eyes (and hands) out of your engine bay by opting for the (optional) locking version of the AeroCatch. Locking versions available in both TOP MOUNT and BOTTOM MOUNT installation styles. Includes pre-installed lock cylinders and a pair of matched keys. Simply select your style below, before adding to cart.

How They Work (PDF)

Installation/Prep Instructions (PDF)

Tech Specs (Top Mount) PDF

Tech Specs (Bottom Mount) PDF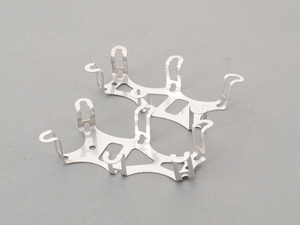 The AeroCatch Impact cage is designed to hold the latch assembly together and allow it to function normally in the event the flange is fractured by an impact to the bodywork. Sold in pairs. Installation Instructions