What better place to look for a BMW wheel upgrade than straight from BMW? BMW has always offered alternative or upgraded wheel sets for most of their model range. These larger wheels offer a safe and effective upgrade. We consider the factory wheels to be the benchmark for wheel fitment. Even if you don't choose a factory wheel style, the sizing and offset has already been tested and developed by BMW's own engineers. Using the factory upgrade wheel sizes and offsets as a template is a good way to ensure a trouble-free fit for your own wheel project. For wheel information in general,
check out our Wheel Tech Guide by clicking here.
BMW Wheels are one of our specialties. Our website lists the most popular wheels that we sell but we always welcome inquiries for other factory BMW wheels. Call or e-mail us and we can likely save you substantial amounts of money than buying from your local BMW dealer.
| | | | | | |
| --- | --- | --- | --- | --- | --- |
| | | | | | |
| CSL | Style 67 | Style 220 | Style 359 | Style 359 | Style 5 |
Upgrade the appearance of your BMW with this Genuine BMW Style 189 alloy wheel!&Newline; &Newline;

Genuine BMW Light Alloy Rim - 8Jx18 Et:34
This item fits the following BMW Chassis:
E90,E92,E93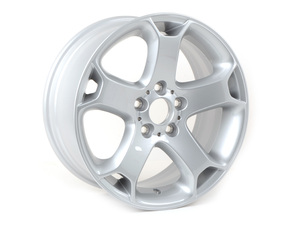 Genuine BMW Light Alloy Rim - 81/2Jx18 Et:48
This item fits the following BMW Chassis:
E53 X5 BMW E53 X5 wheels are some of the most popular wheels to retrofit on other BMW models, especially for a stanced and lowered look. Fitting these wheels to other BMW models can be quite difficult because of their width and high offset but we see them a lot.
This 19" X5 Style 63 wheel set includes -
2 x 19x9.0" ET48 BMW Style 63 V-Spoke alloy wheel (BMW #36111096231)
2 x 19x10.0" ET45 BMW Style 63 V-Spoke alloy wheel (BMW #36111096228)
4 x BMW wheel center caps (BMW #36136783536)
Careful consideration of wheel width, offset and tire sizing must be observed when choosing and installing wheels. Adding different or larger wheels may lead to rubbing on suspension components or bodywork. Wheel spacers, new alignment settings, fender modifications, or other adjustments may be required. Retrofitting wheels from one chassis to another may not be compatible with your TPMS system (new TPMS or a TPMS emulator may be requried). For additional resources on wheel fitments, refer to our Wheel Guide FAQ or give us a call or e-mail.
---