BMW E61 Internal Engine Parts

Rebuilding your engine or giving your cylinder head an overhaul? Internal engine components covers parts that are located within the engine block and cylinder head. Examples include: timing chains and tensioners, rocker arms, rod bolts and studs, head bolts, valve springs, connecting rods, and more. These are Genuine BMW engine parts, performance upgrades, or approved aftermarket brands that have a long track record of reliability and quality.
You're currently viewing parts for your
(E61) 5-Series Touring 2006-2010
.
Reset your chassis

For accurate results, specify your model below.
If you are using a premium fastener, such as the ARP brand rod bolts, head bolts, or main bolts, then you will want this assembly lube. Made to be used to precisely duplicate all ARP fastener preload specifications. Available in 3 sizes -- single use 0.5oz packet, 1.69 fl oz tube, or 10oz bottle (select your size below)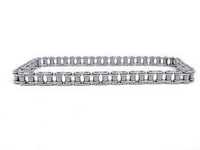 This is the upper timing chain that connects the 2 camshaft sprockets on cars with the M50, M52, M54, S50 or S52 engines. If you need the lower timing chain that connects the crankshaft to the upper sprocket you can find it Here.
Iwis Brand

This item fits the following BMWs:
1992-1998 E36 BMW 323is 323ic 325i 325is 325ic 328i 328is 328ic M3
1999-2005 E46 BMW 323i 323ci 325i 325ci 325xi 328i 328ci 330i 330ci 330xi
1991-1995 E34 BMW 525i
1997-2003 E39 BMW 525i 528i 530i
2004-2005 E60 BMW 525i 530i
2004-2006 E83 BMW X3 2.5i X3 3.0i
2000-2006 E53 BMW X5 3.0i
1997-2002 Z3 BMW Z3 2.3 Z3 2.5i Z3 2.8 Z3 3.0i
1997-2000 Z3 BMW Z3 M Roadster M Coupe
2003-2005 E85 BMW Z4 2.5i Z4 3.0i