BMW E61 Engine Performance Packages

Since 1993 Turner Motorsport has been at the forefront of performance tuning for BMWs. We show this best in our tuned Performance Packages, developed along stages for specific BMW models. Each staged Package is tuned in-house, bringing together expertise from our street tuning division, service shop, and race team. Nearly all of our Packages feature custom-tuned performance software from the best names in the business. The software is the best feature in our kits, maximizing power gains while doing nothing to affect engine reliability or driveability. In most cases, Stages are upgradeable - you can jump from one stage to another by purchasing the new parts and revised software (contact us directly about buying parts outside of the Stage). Or jump right into a higher stage by purchasing the complete kit. We'll work with you to select the appropriate parts and a matching software tune. Nearly all of our Packages have been tested and tuned on our in-house Dynapack Chassis Dyno. Our packages are designed for US-spec models only.
You're currently viewing parts for your
(E61) 5-Series Touring 2006-2010
.
Reset your chassis

For accurate results, specify your model below.
2006-2007 models with N52 engine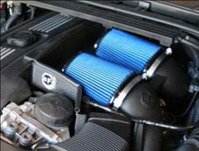 2007-2010 E60 535i/535xi Stage 1 Performance Package
Peak Power Gain:
+65hp / +99ft-lbs
Octane:
91
or higher
Our Stage 1 kit features a cold-air intake kit and performance software for a staggering increase in power and torque. We offer this package with the aFe Dual Cone Intake (DCI) to open up the breathing. The larger surface area of the filters allows more air to enter the engine - creating more power and torque, a richer engine sound, and better throttle response. The kit is supplied complete with aFe Pro5R filters, mounting shield, intake tubes, sealing materials, hardware, and install instructions. The torque increase from low-mid RPM is sensational.
We have paired the aFe DCI with the Cobb AccessPort performance software. The Cobb software tool puts multiple tuning stages in the palm of your hand. Our Stage 1 Performance Package is aligned with the Cobb Stage 1 tuning map. Simply plug it in, select the Stage 1 map with your octane preference, and install. Select different maps for other upgrades, throttle settings, octane ratings, valet mode, or revert back to stock! If you're moving up in Stages simply download a new file from the Cobb website and update your AccessPort programmer! The AccessPort triples as a diagnostic tester/reader and a data logger. It's the most feature-packed programmer on the market today.
We have taken the guesswork out of choosing the best upgrades for the N54 engine. If you follow the upgrade path we have laid out you will have very satisfying and reliable results. This Stage 1 package is a great 'bang for the buck' upgrade - this power kit makes more power and torque at every RPM and makes a fantastic snarling sound every time you dip into the throttle. Note that peak power gains are quoted above but this package has even bigger performance gains in the lower RPM!!
E60 535i, 535xi Stage 1 Engine Upgrade includes:
aFe Dual-Cone Intake (filter, mounting shield, intake tubes)
Cobb AccessPort Performance Programmer
This item fits the following BMWs:
2007-2010
E60 BMW
535i 535xi 535i xDrive
Part #: TMS11770
Free Shipping