BMW E61 Chargepipe & BOV Upgrade Kits
The new generation of BMW turbo engines suffer from both heatsoak-induced horsepower losses and boost-related stress and pressure failures. The plastic components can be a problem even at stock boost levels. When modifying the car and increasing boost, installing an upgraded intercooler is essential to keep temperatures down and minimize pressure loss. Another area that also needs attention is the stock chargepipe and diverter valve. When more boost is added these areas have proven to be the first to show problems. If the diverter valves fail, you lose precious boost and horsepower, rendering your upgrade worthless. Our products are designed to be stronger and more durable than the factory components to a) keep your boost levels where you want, and b) protect other internal turbo-related components from boost damage.
You're currently viewing parts for your
(E61) 5-Series Touring 2006-2010
.
Reset your chassis

For accurate results, specify your model below.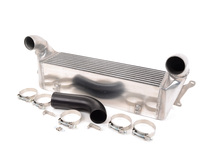 Drawing on extensive testing and a scientific approach, CP-E has engineered a compact front mount intercooler (FMIC) for the 2006-2010 E60 535i that delivers big cooling improvements from a small package. The CP-E FMIC is a direct fit replacement for the stock intercooler, mounting in the same location, and with only minimal trimming for a factory-like fitment. During dyno testing, CP-E measured an hugely impressive 84% efficiency with 14lbs of boost (compared to 64% for the factory intercooler) as well as improved pressure losses. This is the best engineered and impressively designed N54 intercooler kit we have seen to date.
CP-E designed an intercooler upgrade from scratch and backed up with sound engineering and scientific data collection. Their IC kit was developed on their dyno with a data logging system using eight temperature and pressure sensors to accurately gauge the performance of the stock intercooler and come up with a game plan on improving upon it. They found the stock system worked adequately for the stock boost levels but was quickly overwhelmed when the engine was modified for more boost (heat). There are two important metrics when assessing the performance of an intercooler: efficiency (how well does the IC extract heat from the intake air) and pressure loss (how much boost pressure is lost from passing through the IC). CP-E measured 64% efficiency with over 3 bar of lost pressure at 6,300 RPM with the stock IC.
The typical plan for a better intercooler is to use the biggest core that will fit within the bodywork. While scoring good efficiency numbers the larger surface area will have greater pressure loss. It's the hidden catch to the "bigger is better" intercooler kits on the market. The best IC kits will walk a fine line on thermal efficiency from more surface area with preserving the boost output from the turbos. If you can retain as much of the turbo boost as possible you will ultimately put out more power (you can do as much or more with less). CP-E engineered their FMIC kit along these principles and the results are very impressive for such a compact design.
Their new IC design proved to be superior when they measured 84% efficiency and less than 2 bar of pressure loss at 6,300 RPM! That's a 20% improvement in efficiency and over a pound of pressure gained back over the stock intercooler! While the stock IC decreased intake air temp by 120 degrees, the CP-E IC dropped it by nearly 180 degrees. The CP-E IC has a distinct advantage over the stock IC at all RPM but especially so after 4,500 RPM where the stock unit just can't withstand the heat and its performance quickly plummets. The CP-E IC is much more stable across the RPM band. On the dyno, the 335i with the CP-E IC put down almost 20whp more than the stock IC setup. This N54 intercooler kit really delivers as promised.
The CP-E N54 FMIC is made from a bar and plate design with a core measuring 21"x5.5"x6.0". The end tanks are CAD designed for optimized flow and then cast in aluminum. The factory oil cooler is relocated above the intercooler for better airflow. New silicone and aluminum inlet and outlet pipes with clamps are included. For the E60 535 the installation is straightforward but will require permanent cutting of plastic shrouds to get a perfect fit.
Made in the USA.
This item fits the following BMWs:
2006-2010
E60 BMW
535i 535xi 535i xDrive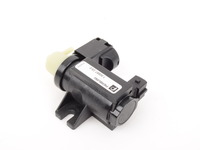 This is the OEM Peirberg boost solenoid pressure converter for BMW's with the N54 6 cylinder turbo and the N63 V8 turbo engine. Sold individually. Replaces BMW part number 11747595374.
This item fits the following BMWs:
2008-2010
E82 BMW
135i
2011
E82 BMW
1M Coupe
2006-2010
E90 BMW
335i 335xi 335i xDrive - Sedan
2007-2010
E92 BMW
335i 335xi 335i xDrive - Coupe
2011-2013
E92 BMW
335is - Coupe
2007-2010
E93 BMW
335i - Convertible
2011-2013
E93 BMW
335is - Convertible
2004-2010
E60 BMW
535i 535xi 535i xDrive
2011+
F10 BMW
550i 550i xDrive
2012+
F12 BMW
650i 650i xDrive
2009+
F01 BMW
750i 750li 750i xDrive 750li xDrive
2011-2013
E70 BMW
X5 xDrive50i
2011-2013
E71 BMW
X6 xDrive50i
2009+
E89 BMW
Z4 sDrive35i Z4 sDrive35is