BMW E61 Performance Flash Software, 2005+ Models

The Fastest Way To More Power - Up To 120hp!!!
Our Performance Software makes more horsepower and torque with no downsides! Performance software is the icing on the cake, the finishing touch, or the capstone for your BMW tuning project. Software ties it all together - maximizing output from upgrades where the factory software can't keep up. The factory software is actually programmed around 87 octane which de-tunes the performance of the car. Our software is set to 91 as a mimimum, allowing us to be more aggressive with the programming. We can refine and adjust the factory limitations, opening up the potential for more horsepower or refinement from your current upgrades. We also tune the software to fix defects and rough edges in the stock software, making the car easier and more enjoyable to drive.
We have been tuning BMW software since 1995, making us one of the most experienced BMW tuners in North America. Over the years we have experimented and tested many different forms and brands of performance software, including developing our own on our Dynapack chassis dyno. Our Performance Software catalog includes tunes and upgrades that best suit your BMW and your upgrade goals.
Turner Motorsport Performance Flash Software features:
+ dyno developed, real-world tested
+ ignition and fuel timing adjustments
+ cam timing, including VANOS and Valvetronic
+ raised rev limit*
+ top speed de-limited*
+ part throttle and full throttle mapping
+ improved throttle response
+ specific software for most major upgrades - cold-air intakes, sport exhaust, etc
+ race software for removing catalytic converters**
* - on select models
** - not legal for street use, emissions liability waiver required
You're currently viewing parts for your
(E61) 5-Series Touring 2006-2010
.
Reset your chassis

For accurate results, specify your model below.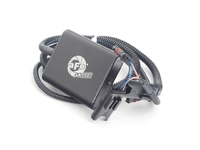 THE EASIEST WAY TO MORE POWER
HP gain = up tp 40 hp
Trq gain = up tp 51 ft-lbs
Plug And Play Engine Harness!
Power Without Worry!

There's no secret to getting additional power from a turbo engine - turn up the boost! But it's easy to take things too far and become "boost drunk". If what you're after is a generous bump in power without worrying about reliability, compromises, or additional modifications the aFe Power Scorcher is perfect for you. We've tried the Scorcher in a number of different BMWs and can report back that it works flawlessly!

Our findings:
Incredibly simple installation - by the third car we tested with we had the install down to 5 minutes!
High build quality - it looks and feels like a real part - not homemade like others we have seen
Immediate power gains - right from our parking lot we could feel the substantial difference
Affordable power - great bang for the buck
The Scorcher is a plug-and-play tuning module that installs on the engine wiring harness and modifies the signals from the manifold pressure sensors. The new signals are then sent to the engine computer which increases boost based on the modified signal. Up to 4 more psi is available on the N54 engine. The power gains are instantly noticeable and the module has been fully engineered to deliver a smooth and reliable power boost over all RPM. aFe developed this module upgrade on their in-house Mustang and Dynojet dynos as well as using them on their own BMW 335s. There are other products that give more power (for additional cost) but more boost also brings more complications. This is all of the power you need without additional drama and trickery. The Scorcher can be used on its own or combined with other aFe Power products for the total package.

The install is very easy with no cutting or modification to existing components. Unplug the harness from your MAP sensors and plug it into the Scorcher module. Then plug the Scorcher harness into the MAP sensors. Mount the module wherever you wish (Velcro and zip ties included). A blue LED lets you know the module is plugged in correctly and functioning. You can also revert back to stock just as easily! The Scorcher is built with a 0.1% tolerance on critical components. Each connector is an OE type for the best and most secure fitment and they use high quality wiring with excellent heat and chemical resistance. The module box is aluminum with a hardcoat anodize finish. This is way beyond the other 'resistor in a box' products on the market. aFe warranties the complete unit for two years.

This item fits the following BMWs:
2007-2010 E60 BMW 535i 535xi 535i xDrive
2008-2011 E71 BMW X6 xDrive35i
2008-2010 E82 BMW 135i
2011-2012 E82 BMW 1M Coupe
2009-2010 Z4 BMW Z4 sDrive35i Z4 sDrive35is
2006-2010 E90 BMW 335i 335xi 335i xDrive - Sedan
2007-2010 E92 BMW 335i 335is 335xi 335i xDrive - Coupe
2007-2010 E93 BMW 335i - Convertible

Part #: 77-46302
In Stock
Free Shipping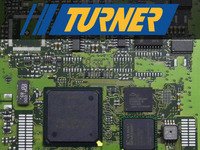 MORE POWER, BETTER DRIVEABILITY!
Max HP gain = 19 hp
Max Trq gain = 20 ft-lbs
Rev Limit = 7000 RPM
Our software fully maximizes the 'high-output' N52B30O1 engine in the 530i. Our software has been carefully developed on the dyno and the road to provide optimal power and torque gains at all RPM. We change the fuel, Valvetronic, and VANOS maps as well as revise the factory torque limiters. We have paid particular attention to increasing low and mid-range torque. The stock BMW software is hampered by settings for 87 octane fuel. By re-mapping the engine programming for 91 octane, we can make more power, torque, and improve fuel mileage - all without harm to the engine or affecting driveability. The throttle response is also improved (quicker) eliminating unwanted and dangerous flat spots in the pedal response.
There are two ways to install our software: mailing the ECU to us for a reflash or do-it-yourself install with our Turner Flash tool:
Mail-In Reflash - lower upfront cost but additional shipping charges. Minimum downtime of at least three days. We have a 24 hour turnaround on shipping the ECU back to you but factor in transit time. Expert installation of your software at our facility.
Turner Flash DIY tool - higher upfront cost but files are emailed back and forth. No downtime - you can still drive the car while we process your tune. Files are emailed back and forth - your stock file comes to us, a tuned file is returned to you. Easy install via Windows laptop using these instructions (click here).
Should you choose to mail your ECU to us, follow these specific instructions on shipping the computer (click here). If you are unsure of how to ship your computer, we can provide you with a shipping packet and shipping label. Return shipping is by UPS Ground but Express shipping is also available.
This item fits the following BMWs:
2006-2007 E60 BMW 530i 530xi

Part #: TN52-530
Ships in 1 day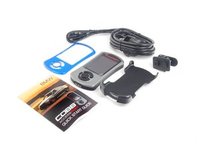 THE EASIEST WAY TO 85+ HP ON THE N54 TWIN-TURBO!
HP gain =
85+ hp
Trq gain =
100+ ft-lbs
Plug-In Power! Easy to use and completely reversible!Expect higher gains with additional modifications
New Features
Larger, full color, higher resolution screen
We super sized the screen for ease of use and better monitoring. Full text help menus, multi-gauge layouts, full map descriptions and more. This screen has room to spare - so no need to run back to your laptop.
Customizable multi-gauge display
Want gauges? No problem. The V3 now supports up to 6 fully customizable gauges with 1/1000 resolution. Monitor all the parameters you want to see and customize each layout for street, strip or track.
In vehicle mount, with on/off switch
There is nothing we like more to see than an AP peeking over the dash. With the on/off button and using the included universal mount or vehicle specific options, there is no reason not to run your AP in-vehicle.
Faster and easier to use with a familiar face
We listened to what you wanted. Use your same maps, monitor your same parameters, and troubleshoot your same codes, but now with more. More speed, more memory, more map storage, more live gauges, and more troubleshooting help.
Interchangeable faceplates
Is it your Accessport or our Accessport? It's yours. Customize it as you see fit. The new V3 comes with 2 interchangeable bezels, blue and grey, or put your own touches on one.
The Cobb Tuning AccessPort is a flashing tool that installs performance software through the OBD port on your car. No other software is as easy to use and install! If you can program a TV remote, you're over-qualified to install this software. Just plug the AccessPort into the OBDII port under the dash, bring up the AccessPort onscreen menu, select from a variety of engine maps for your desired performance and install.
It's that easy.
The software is from COBB Tuning - one of the most accomplished software tuners in the business. The Cobb software replaces the conservative factory settings with different maps to make more power.
The AccessPort maintains the sophisticated control logic, refined engine response and excellent driveability of the stock BMW computer while providing impressive power gains and improved performance. Pre-loaded on the AccessPort are engine maps for 91 or 93 octane fuel, and a valet mode, with the capacity to hold up to 100 other tuning files! The AccessPort also saves your stock tune for you to revert back to factory settings at any time. It also has the
the ability to download additional maps
so that you can run various upgrades with the correct software tune. Additional tunes are available direct from Cobb through their AccessPort manager program (available for PC or OSX). Cobb also provides tech support.
In addition to the performance improvements, the AccessPort includes a variety of other useful tools -
+ performance measurements
+ data logging - up to 10 hours
+ fault code/DTC reading and clearing
+ check/verify performance modifications - measures 0-60 and ¼ mile times and can measure approximate HP
The AccessPort can display boost pressure, oil temperature, pedal position, load, individual cylinder timing, and other engine data channels with the Live Data feature.
Typical Performance Gains:
135i 335i 335xi Z4 35i +30% Peak HP & +38% Peak TQ
535i 535xi - +19.2% Peak HP & +30.5% Peak TQ
This item fits the following BMWs with N54 turbo engines:
2008-2010
E82 BMW
135i
2011+
E82 BMW
1M Coupe
2007-2010
E90 BMW
335i 335xi 335i xDrive - Sedan
2007-2012
E92 BMW
335i 335is 335xi 335i xDrive - Coupe
2007-2012
E93 BMW
335i 335is Convertible
2007-2010
E60 BMW
535i 535xi 535i xDrive
2009+
Z4
sDrive35i Z4 sDrive35is

Part #: AP3-BMW-001
In Stock
Free Shipping