BMW E61 Performance Headers & Downpipes

Headers are a bolt-on component that will make a huge improvement in how your BMW performs. As a replacement for your factory BMW exhaust manifold, our BMW headers provide a more direct path for exhaust gasses leaving your engine. Headers prevent your BMW's exhaust pulses from "fighting" one another as they leave the head. The end result is that BMW headers give you more power and torque, and you'll love the high-winding top end push that a free-breathing engine exhibits. BMW headers are a must-have if you're doing any engine modifications on your vehicle. Along with a cold air intake, BMW headers provide the free-flowing exhaust necessary to get the most power out of your motor.
You're currently viewing parts for your
(E61) 5-Series Touring 2006-2010
.
Reset your chassis

For accurate results, specify your model below.
Narrow exhaust pipes can be a major restriction to performance. If you are looking for top of the line downpipes, AR Design has you covered with their Hi-Flo Downpipes. These are perfect to add power, performance, and stunningly good looks. Made 100% in the United States of 3" 304 stainless steel tubing and expertly welded with some of the best looking welds on the market, the guys at AR Design are so confident in their material and build quality, they give you a lifetime warranty against manufacturing defects and a three year warranty against rust and corrosion.
These performance downpipes produce more power than the stock exhaust pipes and add a sporty exotic tone to your exhaust note. These downpipes also include a Race Catalytic Converter to ensure both high flow and emissions compliance for cars driven on the street in addition to the track.

These are available as stainless or with a ceramic coating rated up to 2000 degrees Fahrenheit. This helps keep the heat from radiating into the engine bay, keeping air intake temperatures much lower! Two coating options are available: Silver and Black.

Included in this kit:
3" Downpipes
Race Cats
"Bomb-Proof" exhaust gaskets
Grade 10.9 metric hardware for high durability
Fits the following vehicles:
E60 BMW 535i with N54 engine

Part #: E6XN54CDP
Direct Ship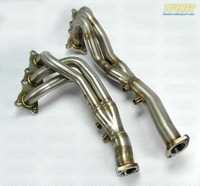 Free ground shipping!
One of the biggest restrictions on the N52 engine is in the exhaust system. The 525i, 528i, and 530i use primary and secondary catalytic converters in the exhaust and the biggest blockage comes from the primary cats located in the exhaust manifold. These Supersprint tubular headers remove the primary cats entirely, speeding up exhaust flow, and releasing more horsepower and torque. These headers will bolt on to the stock secondary cat section or a new set of Supersprint metallic sport cats.

Supersprint exhaust is widely recognized as the leader in complete exhaust system upgrades - extremely high quality, well designed for optimal flow, and amazing sound. Even at a premium price Supersprint is an unbeatable exhaust system because every aspect is done to such a high level. A Supersprint exhaust rewards you with a terrific sound, long lasting construction and excellent fitment. The Supersprint sound is very 'European' which fits the sporting sophistication of BMWs perfectly. Most systems are also modular - sections can be added or removed to custom tailor the exhaust sound to your preferance. Aside from 'Race' systems, their mufflers meet European noise laws so you get a refined and tuned sound without being excessively loud. Most Supersprint systems are built with larger diameter piping to improve exhaust flow which helps the engine do less work and make more horsepower! Supersprint exhausts generally run at a premium over other systems but no other system on the market can match their quality, performance, or reputation!

NOTE: Supersprint engineers and manufactures complete exhaust systems. This part was designed to be used with the rest of the Supersprint system on this car but may be used on its own. Contact us for more details. Because the primary cats are being deleted, special software will be required to eliminate the fault codes associated with this. Supersprint metallic sport cats include ports for extending the oxygen sensors, however, special software may still be required.
section:header
connects to:OEM secondary cats or Supersprint section 1
material:T304 stainless steel
This part alters or deletes the emissions equipment on your car. Because of this, we require a waiver of emissions compliance to be signed and sent in to TMS. You can download the waiver here.

This item fits the following BMWs:
2006-2010 E60 BMW 525i 525xi 530i 530xi 528i 528xi 528i xDrive

Part #: 789401
Ships on Mar 13, 2018
Free Shipping