BMW E61 K&N Performance Air Filters
This is absolutely the least expensive and easiest way to improve horsepower and extend the life of your air filter! The sandwiched layers of cotton gauze, specially treated with K&N air filter oil, provides five times more filtering surface over the element circumference. This serves to smooth incoming air flow while reducing intake restriction and thereby boosting horsepower. K&N Performance Air Filters come pre-oiled for easy installation and with K&N's famous 1,000,000 mile warranty. K&N filters are easy to clean: wash with cold water every year and re-oil it every two years for a lifetime of performance.
You're currently viewing parts for your
(E61) 5-Series Touring 2006-2010
.
Reset your chassis

For accurate results, specify your model below.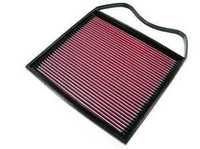 K&N drop-in air filter for 335i and 335xi (E90, E91, E92, E93 chassis), 135i (E82 E88 chassis) and 2007-2010 535i & 535xi (E60 chassis). This filter drops into the air box in minutes, just as the stock air filter element does.
This K&N air filter fits the following BMWs:
:
2008-2010
E82/E88 1 series
135i
2011
E82 1 series
1M
2007-2010
E90 3 series sedan
- 335i and 335xi sedan (N54)
2007-2010
E92 3 series coupe
- 335 & 335xi coupe
2010+
E92 3 series coupe
- 335is
2007-2010
E93 3 series convertible
- 335i convertibles
2007-2010
E60 5 series
535i & 535xi turbo sedan

Part #: 33-2367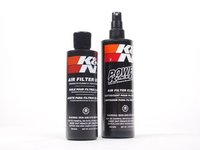 Cleaning and re-oiling your K&N filter will prolong its life and maintain K&N's performance adavantage. You should clean your filter every year with water and K&N's cleaning solution and re-oil the filter every two years. K&N air fitlers come pre-oiled.

Part #: 99-5050

Free Shipping
on orders $199 and up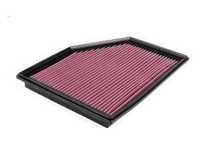 K&N's replacement air filters are designed to increase horsepower and acceleration while providing excellent filtration. These filters are washable and reusable and are custom designed to fit into your existing factory air box. Their drop-in design means adding performance is simple. Just simply remove the disposable OEM air filter and replace it with a K&N. K&N filters are covered by our famous K&N Million-Mile Limited Warranty™.
This item fits the following BMWs:
2004-2010
E60 BMW
525i 525xi 528i 528xi 530i 530xi
2006-2008
E85 BMW
Z4 M Roadster Z4 M Coupe

Part #: 33-2292

Free Shipping
on orders $199 and up