BMW E64 Internal Engine Parts

Rebuilding your engine or giving your cylinder head an overhaul? Internal engine components covers parts that are located within the engine block and cylinder head. Examples include: timing chains and tensioners, rocker arms, rod bolts and studs, head bolts, valve springs, connecting rods, and more. These are Genuine BMW engine parts, performance upgrades, or approved aftermarket brands that have a long track record of reliability and quality.
You're currently viewing parts for your
(E64) 6-Series Convertible 2004-2010
.
Reset your chassis

For accurate results, specify your model below.
If you are using a premium fastener, such as the ARP brand rod bolts, head bolts, or main bolts, then you will want this assembly lube. Made to be used to precisely duplicate all ARP fastener preload specifications. Available in 3 sizes -- single use 0.5oz packet, 1.69 fl oz tube, or 10oz bottle (select your size below)
ARP is a company that prides itself on performance and durability, no matter the application. Offering the finest engine hardware money can buy is the driving initiative at ARP and this is evidenced by the staggering amount of satisfied customers and race teams the world over.

Part #: TMS1733
Ships on Apr 3, 2018

Free Shipping
on orders $199 and up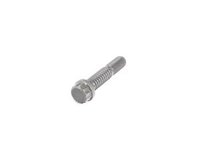 Connects the lower half of the the connecting rod to the top half. 2 needed per connecting rod.
S65 requires 16.
S85 requires 20.

When doing any sort of repair or maintenance there is no replacement for genuine factory parts. Turner Motorsport carries the Genuine BMW brand with pride and has the parts you need to complete your next project with confidence.

This item fits the following BMW Chassis:
E60 M5,E63 M6,E63,E90,E92,E93

Fits BMW Engines including:
S65,S85\

Part #: 11247834522
In Stock

Free Shipping
on orders $199 and up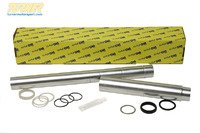 Has your BMW's with the N62 V8 engine developed a coolant leak at the front of the engine from the timing cover weep hole? If so the it is likely that the coolant transfer pipe seal, located below the intake manifold has developed a leak. Normally, replacing the seal on this pipe would require almost 40 hours of labor and involve removing the entire engine from the car, then removing the cylinder heads, and timing covers. With this new collapsible pipe this repair can be accomplished in under 10 hours! This solution will save you or your mechanic from a bunch of headaches and get your V8 back on the road leak free!

With more than 100 years in the industry, Elring is one of the oldest names in the European autoparts segment. Delivering OE-quality you can rest assured the job will be done right the first time.
video: N62 Cooling Pipe Replacement

Supplement Gasket Kit Parts List
(click to expand)
BMW p/nQtyDescription
115317100481Rear Engine Block O-ring,
115175077171Heat Pipe w O-ring
115175085351Water Pump Gasket
115114399761Valley Pan Pipe Pump
111475072781Valley Pan w Gasket
116175211812Intake Manifold Gasket
071199035962Camshaft Adjuster O-ring
123114399881Alternator Feed Pipe
750il gasket kit deletes 11617521181 and 07119903596 and adds - 8 - 11617537999 profile gaskets


This item fits the following BMWs:
2004-2010 E60 BMW 545i 550i
2004-2010 E63 BMW 645ci 650i
2002-2008 E65 BMW 745i 745li 750i 750li
2004-2006 E53 BMW X5 4.4i X5 4.8is
2007-2013 E70 BMW X5 4.8i xDrive48i

Part #: 11141439975R
In Stock
Free Shipping