BMW E64 Stock OEM Replacement Brake Pads
Turner Motorsport does not usually sell the OE or OEM type brake pads. The typical TMS customer is looking for better-than-stock braking performance. But there are some cases where the stock pads actually perform pretty well. Or in some cases, our pad suppliers have not come out with an option for a newer model yet and the OEM pad is the only current option. For these customers, we offer Genuine BMW pads or pads from Original Equipment Manufacturers like Ate, Textar, Pagid, and others.
You're currently viewing parts for your
(E64) 6-Series Convertible 2004-2010
.
Reset your chassis

For accurate results, specify your model below.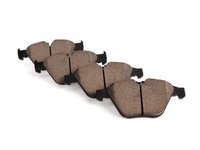 Ceramic Brake pads have advanced a great amount and show drastic advantages over traditional metallic and semi-metallic brake pads. Akebono in particular has been producing brake pads for major brands for years and their Euro brake pads have seen use in over 90 models of vehicles as the OE brake pads, ensuring high, consistent quality.
Thanks to Akebono's pad formulation, you can enjoy many benefits including:
Reduced Heat Absorption
Reduced Brake Fade
Reduced Stopping Distances
Significantly Less Brake Dust
Increased Brake Rotor Life

This item fits the following BMWs:
2007-2013 E9X BMW 335i/is/xdrive/d
2004-2010 E60 E61 BMW 525i/xi 528i/xi 530i/xi 535i/xi 545i 550i
2004-2010 E63 E64 BMW 645ci 650i
2002-2008 E65 E66 BMW 745i/li 750i/li 760i/li
2011 E82 BMW 1M Coupe
2011-2016 Z4 BMW sDrive
2012-2015 E84 BMW X1 x35i

Part #: EUR918
Free Shipping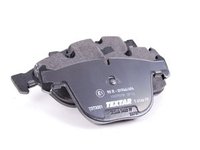 These are the rear brake pads for the E60 M5, E63 M6, and E90 E92 E92 M3 models. BMW used several different suppliers for their brake pads and we buy direct from their distributors to get you the same pad as originally equipped but at a fraction of the cost of the local BMW dealer. . These are the same pads as what originally came on your car but without the expensive BMW logo. Replaces BMW part #34216768471.
Price is for one set - enough to replace the pads on both rear calipers.
These rear pads fit the following BMWs:
2006-2011
E90 BMW
M3 - Sedan
2007-2013
E92 BMW
M3 - Coupe
2007-2013
E93 BMW
M3 - Convertible
2004-2010
E60 BMW
545i 550i M5
2004-2011
E63 E64 BMW
645ci 650iM6
2002-2008
E65 BMW
745i 745li 750i 750li 760i 760li
2007-2013
E70 BMW
X5 4.8i X5 xDrive48i
2008-10/2008
E71 BMW
X6 xDrive35i
2008+
E71 BMW
X6 xDrive50i

Part #: 34212284296

Free Shipping
on orders $199 and up