Interior trim looks amazing when made from carbon fiber. Just as chrome and wood grain were the trim finishes in their respective times, carbon fiber is the style finish of current times. It is the finishing touch that sets one interior apart from all of the standard factory trim kits and reinforces the impressions of advanced technical sophistication that comes with every BMW. Real carbon fiber is the perfect aesthetic complement to a BMW's design and engineering - it's strong but lightweight and looks high tech. Our carbon fiber trim pieces and kits are very high quality with fit and finishes just like the factory original trim. In many cases, our pieces are actual Genuine BMW carbon fiber accessories.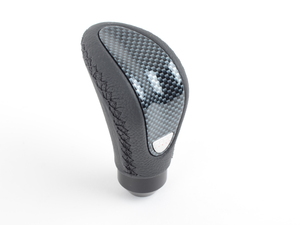 Expected Ship Date: Sep 22, 2021
Momo Combat Anatomic Leather/Carbon-look shift knob for nearly all BMWs. Installs in minutes for a unique touch to your interior. High quality black Endurance leather, black stitching, carbon-look insert, with black anodized base. The Combat knob favors two-finger or pistol grip shifting. The shape allows two or more fingers to rest under the head of the knob - a more ergonomic shape than the factory shift knobs. This knob is 6.2oz, slightly heavier than the ZHP knob. Comes with installation kit, ready to install.