BMW E82 Engine Fans & Fan Clutches

BMW cooling fans are one of two types - engine mounted mechanical and full electric (not driven by the engine). As the fan spins it draws air from the front of the car, pulls it through the radiator (where the air cools the water vanes in the radiator), and then directs the airflow over and around the engine. The faster you drive the car, the faster air is being drawn through the radiator. But at idle or in traffic, and especially warm days, the lack of airflow could lead to overheating if your fan is malfunctioning. The fan should always be spinning fast. A fan that barely spins at all is a sign of a failed fan clutch and should be replaced right away. The clutch is mounted in the fan and can be replaced on its own. The actual fan rarely goes bad unless one of the blades is damaged. Electric fans require a complete replacement if it's not working (the motor cannot be replaced separately).

For accurate results, specify your model below.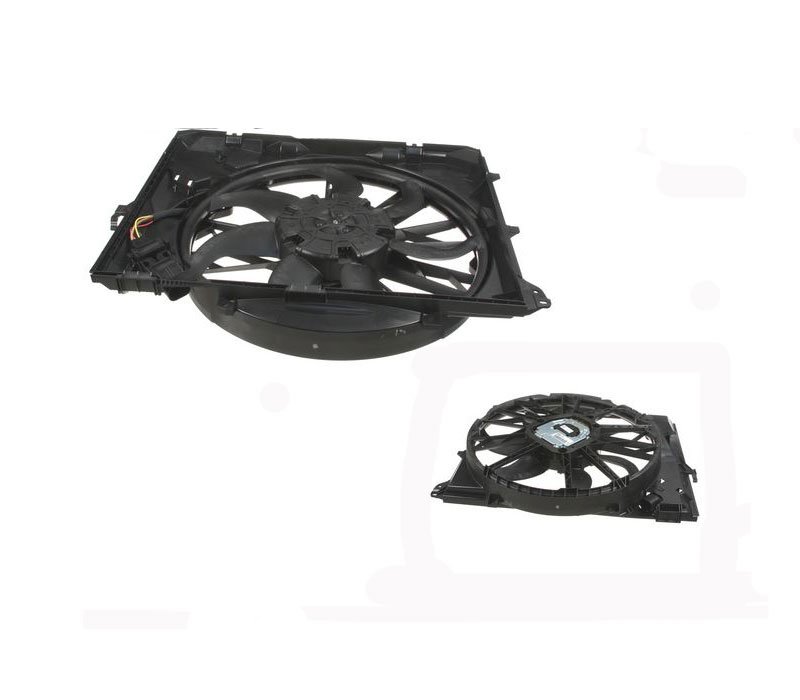 This OEM BMW electric pusher fan with housing provides additional airflow through the radiator to maintain proper coolant temperatures. Modern BMW's do not utilize a belt driven fan, so this is the only fan on the car. This is the 600 Watt version often used for hot climates. Only for cars with N52N engine.
This item fits the following BMWs:
2008+
E82 BMW
128i
2006-2011
E90 BMW
325i 325xi 328i 328xi 328i xDrive 330i 330xi - Sedan - Automatic Transmission
2006-2012
E91 BMW
325xi 328i 328xi 328i xDrive - Wagon - Automatic Transmission
2007-2013
E92 BMW
328i 328xi 328i xDrive - Coupe - Automatic Transmission
2007-2013
E93 BMW
328i - Convertible - Automatic Transmission
Part #: 17427562080