BMW E82 Black Grills & Trim (incl Shadowline Trim)
Replacement black and carbon fiber kidney grilles and black shadowline grille and trim.
Chrome is so Seventies!!! These replacement front grilles eliminate the traditional (but dated) chrome BMW kidney / center grilles in favor of the stealthier look of matte black or carbon fiber. These shadow-style pieces feature factory-style clips and installation. Blackline grilles give your BMW a darker, more aggressive look without being over done. We offer these grills for a wide variety of BMWs, and use them on our own personal BMWs for that aggressive stealth look. They are made from impact resistant long life ABS polymer. These install in minutes, and cost less than the cost of a pair of new factory BMW grilles, making them simple and cost effective. Each kit includes both a left and right grille for your BMW, ready to install.

For accurate results, specify your model below.
These are Genuine BMW front center "kidney" grills that install in minutes, eliminating the chrome and giving you the blacked out "shadow" look that has become so popular and attractive. These work on any 1 series, including 128i and 135i (both coupe and convertible) and are the highest quality, as you'd expect from Genuine BMW factory parts. Kit includes one left grill and one right grill.
These grills fit all 2008 and newer E82 1 Series coupe and E88 1 series convertible, including 128i and 135i.

Part #: TMS3848
In Stock

Free Shipping
on orders $199 and up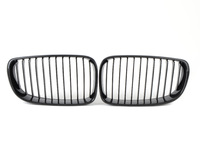 Ditch the boring and overstated factory chrome front grilles and get a darker and more aggressive look on your car. These replacement grilles are made from ABS plastic with a carbon fiber weave on the exterior frame. Carbon fiber is replacing chrome and aluminum as the most desired decorative trim. Since it has its roots in aerospace and motorsports the look gives off the impression of cutting-edge technology and lightness. But our suppliers have improved the fit and finish of carbon's inherently rough appearance. There are several quality grades to carbon fiber weave and we would put this right in the middle. It s a good quality carbon weave without costing hundreds more like an Original BMW carbon part would. We inspect each grille for finish imperfections and quality issues so you re getting only the ones we approve. If you want to complete the carbon fiber makeover on your car check out our other carbon grilles, emblems, trim, and spoilers. But please note that we source our carbon products from multiple suppliers and the carbon pattern will vary. Our grilles are sold in pairs one for the left and one for the right. Installation is easy as they snap out and then snap back in.
This item fits the following BMWs:
2008+
E82 BMW
128i 135i 1M

Part #: BM-0201
Ships on Apr 4, 2018

Free Shipping
on orders $199 and up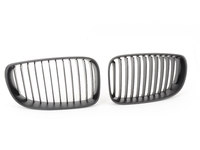 Chrome may still be the standard for trailer hitches and late model truck bumpers, but on a newer BMW such as the 1 Series, you may agree: chrome is overstated and ugly! There are only a few items on your BMW 1 series that are chrome, perhaps most notably the iconic front "kidney" grills. This pair of matte-black grills are a replacement to the ugly over-played chrome grills, and install in just minutes. They work on both the E82 1 Series Coupe and E88 1 Series convertible, and give a subtle -- yet aggressive -- look that will separate your BMW 1 from the others.
These black front grills fit the following BMWs:
2008+
E82
128i & 135i coupe
2008+
E88
128i & 135i convertible

Part #: BM-0200
Ships on Apr 2, 2018

Free Shipping
on orders $199 and up