BMW E82 Akrapovic Performance Exhaust Systems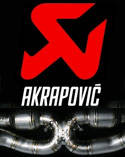 The Akrapovic (pronounced "Ack-rap'-o-vich") company was founded in 1990, based on the experience gained in the field of motorcycle tuning by Igor Akrapovic. Akrapovic is now the leading supplier of Titanium exhaust systems for cars and motorcycles, and are known internationally for their quality and performance. Akrapovic supplies exhausts to BMW Motorsport for racing applications such as the M3 GT4, BMW Motorrad, and many professional race organizations campaigning BMWs and Porsches. The titanium Akrapovic uses for their exhaust systems is produced exclusively for them. Their Titanium is three times stronger and more heat resistant than any other titanium product on the market, in addition to being 40% lighter than stainless steel. This high strength allows the use of thinner insulation while still achieving the highest quality standards, bringing decisive advantages both on and off the race track. The Akrapovic exhaust systems are the lightest and highest quality exhausts you can buy for a BMW. And as you'll find from their sound clips, they also have an amazing sound quality.

For accurate results, specify your model below.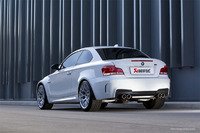 According to BMW the 1 Series M Coupe is a "predator on the prowl", why not give it some
GROWL
with the Akrapovic slip-on exhaust system.
This slip-on muffler is an "axle back" system that is mounted on the MotoGP 1M Coupe Safety Car and now is available for street going 1M Coupes. The Akrapovic Slip-On Titanium exhaust system for the BMW 1M Coupe is designed for drivers who demand more power and less weight. In addition to a weight reduction and a power gain, one of the tasks of the Akrapovic team was also to make the sound of the 1M Coupe become music to ones ears. An optional wireless "dualmode" exhaust flap control allows the vehicle to have a more civilized, but deeper than stock sound at low speed. However, when the exhaust flap is opened the muffler is bypassed, creating a deep and sporty sound much more in keeping with the personality of the car.
Not for sale outside the US or Canada.
This item fits the following BMWs:
2011+
E82 BMW
1M Coupe
Part #: TMS4781
Price: $2776.23 (USD)
$3470.28
(Sale - Save 20%)
In Stock
Free Shipping