BMW E82 Aero & Body Kits

Body kits include front, side, rear, and other components to completely alter or update the appearance of your BMW. These may not be wild and attention-getting add-ons. We offer many pieces that replicate factory bodywork from M3, M5, M Sport and other BMW factory aero kits. Updating the trim and appearance is a great way to add value and refresh your car's ordinary looks.

For accurate results, specify your model below.

Our dry carbon wheel well splitters are made with high performance vehicles in mind. These dry carbon wheel well splitters are used to fine tune the front aerodynamics of a race car or street car to compliment existing aero modifications.
These wheel-well splitter provide two benefits to high performance vehicles - the first is redirecting the airflow past the front of the wheel well right to the wheels, eliminating turbulence. Secondly, they adds more frontal surface area for airflow to effectively apply more downforce. The splitters feature a tapered surface area with slots, enabling fine tuning of frontal downforce.
Each dry carbon downforce wheel-well splitter requires 4 Phillips 3/4" self tapping #2 screws. These are flat tapered strips that will flex to fit your vehicle's wheel wells.
Length: 61.7CM
Width: 5.2CM-7CM
Thickness: 1.5MM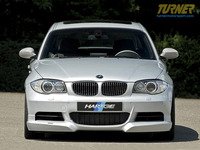 Hartge's front chin spoiler adds a lot of character to the 1-series' front end. The lines of this lip spoiler closely follow the stock M Aero package front spoiler and add definition and heft to BMW's smallest car. This add-on spoiler gives the 128i or 135i extra presence and makes it look unique. When installed, the spoiler becomes 1.5" closer to the pavement. This spoiler is made from high-quality PU-RIM urethane, just like the factory bumper and aero pieces. The urethane material means it is lighter than a fiberglass piece, less resistent to warping from heat, and has some flexability to keep from cracking during an impact. Installation adhesive is included.
This lip spoiler fits the following BMWs:
2008-2012
E82 BMW
128i 135i coupe (
only cars with M Aero Package front spoiler
)
2008-2012
E88 BMW
128i 135i convertible (
only cars with M Aero Package front spoiler
)