BMW E82 Headlights, Headlight Lenses, & Headlight Parts

Cracked, pittted, sandblasted, hazed, and fogged headlight lenses can be a dangerous liability. They drastically cut light output than even the best bulbs will not overcome. There are headlight restoration kits on the market but even polishing and filling will not last much longer than a couple of weeks. Don't prolong their replacement! Only a new set of lenses or housings will restore your lighting's performance. And installing new headlight assemblies is generally straightforward and easy on most cars. Note that some BMW headlight lenses are sealed to the housing with silicone and the only replacement lens comes with a new housing.

For accurate results, specify your model below.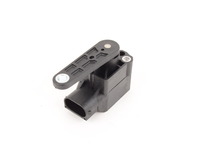 This is the headlight vertical aim sensor for many late model BMW's. This BMW part works with the Xenon headlight system to maintain proper alignment of the lights at various loads to prevent blinding oncoming traffic. If the head lights are your BMW are aimed too high or low a faulty headlight level sensor may be the issue. This part is mounted near the front sway bar link assembly.
This item fits the following BMWs:
2008-5/2009
E82 BMW
128i 135i
1999-2005
E46 BMW
323i 323ci 325i 325ci 325xi 328i 328ci 330i 330ci 330xi M3
2006-5/2009
E90 BMW
325i 325xi 328i 328xi 328i xDrive 330i 330xi 335d 335i 335xi 335i xDrive - Sedan
2006-5/2009
E91 BMW
325xi 328i 328xi 328i xDrive - Wagon
2007-5/2009
E92 BMW
328i 328xi 328i xDrive 335i 335is 335xi 335i xDrive - Coupe
2007-5/2009
E93 BMW
328i 335i - Convertible
1997-2003
E39 BMW
525i 528i 530i 540i M5
2004-3/2005
E60 BMW
525i 525xi 530i 530xi 545i
6/2006-2010
E60 BMW
525i 525xi 530i 530xi 528i 528xi 528i xDrive 535i 535xi 535i xDrive 545i 550i M5
2004-2010
E63 BMW
645ci 650i M6
3/1997-2001
E38 BMW
740i 740il 750il
2002-2008
E65 BMW
745i 745li 750i 750li 760i 760li
2000-2006
E53 BMW
X5 3.0i X5 4.4i X5 4.6is X5 4.8is
2003-2008
E85 BMW
Z4 2.5i Z4 3.0i Z4 3.0si Z4 M Roadster M Coupe
2002-2006
R50 MINI
MINI Cooper
2005-2008
R52 MINI
MINI Cooper Convertible, MINI Cooper S Convertible.
2002-2006
R53 MINI
MINI Cooper S

Part #: 37146784696
Direct Ship

Lampguards are a protective film to keep your headlight lenses fresh and free of scratches or fogging. Install is a breeze and and designed to have a perfect fit every time.
Weathertech has made a name for themselves for having the highest-quality products with the best customer service they can offer. Proudly manufactured in America, they hold very tight engineering tolerances to allow a perfect fit in every application. With a product range from TechShade® (windshield sun shades), to trunk mats, and their world-famous laser measured floor liners, Weathertech has the products you're looking for!

Part #: H2134W
Direct Ship
Free Shipping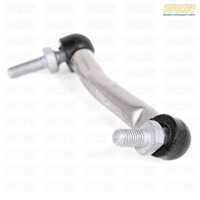 This rod attaches to the front left control arm helps to control the level of the xenon lights. If this part fails or is removed the headlights will be aimed too high.
This item fits the following BMWs:
2011
E82 BMW
1M Coupe
2008-2011
E90 BMW
M3 - Sedan
2008-2013
E92 BMW
M3 - Coupe
2008-2013
E93 BMW
M3 - Convertible
2015+
F80 BMW
M3
2015+
F82 BMW
M4

Part #: 37142283867
In Stock

Free Shipping
on orders $199 and up