Interior trim looks amazing when made from carbon fiber. Just as chrome and wood grain were the trim finishes in their respective times, carbon fiber is the style finish of current times. It is the finishing touch that sets one interior apart from all of the standard factory trim kits and reinforces the impressions of advanced technical sophistication that comes with every BMW. Real carbon fiber is the perfect aesthetic complement to a BMW's design and engineering - it's strong but lightweight and looks high tech. Our carbon fiber trim pieces and kits are very high quality with fit and finishes just like the factory original trim. In many cases, our pieces are actual Genuine BMW carbon fiber accessories.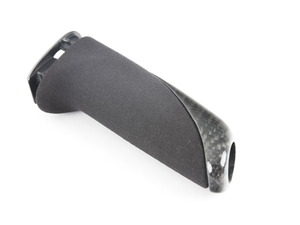 Our OEM style carbon fiber eBrake handle provides your BM...

Our OEM style carbon fiber eBrake handle provides your BMW with the complete OEM look, yet stands out from the rest of the interior trim. If you already have the carbon fiber interior trim, then this is also the perfect compliment to the rest of the interior trims. Fits BMW F22 F23 F30 F31 F34 F32 F33 F36 F87 F80 F82 F83 E84. Comes with bolts pre-attached, allen key and zip ties.