E84 aFe Performance Air Filters

Advanced Flow Engineering (aFe) makes these high performance, high flow OE air filters which replace the restrictive factory paper filter and lets your engine breathe better. These are stock replacement filters that drop in to your BMW's factory airbox system, and will increase flow to the engine, yielding more horsepower and torque.
Paper filters do a good job in keeping dirt out but can clogged easily so that it needs to be replaced frequently.
aFe
's performance filters are made with a washable/reusable cotton gauze which allows more airflow. aFe's filters feature a pliable progressive polyurethane seal, the deepest pleats in the industry, minimal wicking, and are factory pre-oiled with non-surfactant containing refined oil.
Made in California, USA
| | |
| --- | --- |
| Feature | Benefit |
| • Pliable progressive polyurethane seal | • Tight seal without gaskets or sealants |
| • 100% polyurethane construction | • Withstands extreme engine temperatures for extended-service life |
| • Deepest pleats in the industry | • Improved airflow, filtration, and dust-holding capacity |
| • Minimal wicking | • Larger filtration area for more airflow |
| • Factory pre-oiled with non-surfactant containing refined oil | • Will not damage sensitive electronic sensors |
| • Washable/reusable cotton gauze media | • The last filter you will buy for your vehicle |

For accurate results, specify your model below.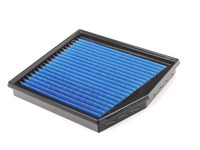 This is a drop-in stock replacement aFe performance air filter that installs into your BMW's factory airbox. This is designed to be the last air filter your BMW needs, as it is completely washable/reusable, and flows better than the stock paper air filters. On your BMW's N55 turbo 3.0 liter engine, aspiration a BIG factor in producing power -- the better the airflow, the higher the potential power. Replacing your stock paper filter with an AFE high performance cloth/gauze filter takes only minutes and instantly reduces air restriction, for more horsepower and torque.
,br>This version used aFe's highest flowing filter media, which uses a lightly oil gauze to filter out dirt and particulates, while allowing more air to flow to the intake. For the best flowing filter, with the best performance gain, we always recommend this standard aFe filter media (often called "Pro5R ", which has a blue pre-oiled filter media). We also carry this filter in the "ProDry" grey filter media, which is oil-free for only slightly less performance and no maintenance.
This item fits the following BMWs:
2011+
E82 BMW
135i
2011+
E90 BMW
335i 335xi 335i xDrive - Sedan
2011+
E92 BMW
335i 335i xDrive - Coupe
2011+
E93 BMW
335i Convertible

Part #: 30-10205
Direct Ship
Free Shipping