BMW E84 Turbo Upgrades
If more boost and reliability are your goals choose from one of our BMW turbo upgrades. Our turbo upgrades range from stock turbos rebuilt with stronger internals to all-new, ground-up turbo upgrades. BMW turbos such as the N54 are capable of really impressive power numbers on stock engine internals but the factory turbos lack the precise tolerances and reliability that an upgraded unit will deliver. In other words, the stock turbos can only do so much and if big power (>400whp) is your goal a turbo upgrade must be in your plans. Our partners are leading experts in turbo technology and upgrades. Each Stage has been professionally developed and tested. Additional upgrades and tuning may be, or is, required. Contact us for more details on tuning options.

For accurate results, specify your model below.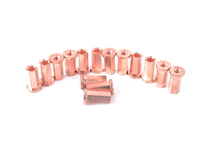 Vargas Turbo has done it again. They've made it even easier for you to get your car back on the road and running right again with your new turbos. They've put together an install kit containing all the components you need to get your new turbos installed properly and efficiently. This means you can get your car back on the road faster and enjoy your new turbos!
Starting in 1978, Vargas Turbo Technologies was built upon the dream of utilizing then-new turbocharger technology to improve the performance of everything from cars to boats. On the cutting edge since the beginning, the company has grown with the industry, servicing diesel and industrial turbochargers. Returning to their hot-rod roots, Vargas has jumped head-first into the BMW performance market, filling a need for high-quality, cost effective turbocharger upgrades for everything from daily-driven street cars to all-out racing machines.

Part #: VTT-N55-INSTL
Direct Ship
OE Wastegate from BMW that regulates the vacuum/boosts levels of the exhaust. If this fails, it could severely disrupt performance and regular engine operation.
When doing any sort of repair or maintenance there is no replacement for genuine factory parts. Turner Motorsport carries the Genuine BMW brand with pride and has the parts you need to complete your next project with confidence.

Genuine BMW Pressure Converter
This item fits the following BMW Chassis:
E70 X5M,E71 X6M,E70 X5,E71 X6,E82,E89 Z4,E90,E92,E93,F02,F06,F10,F12,F13,F15,F16,F22,F25 X3,F26 X4 X4,F30,F31,F32,F33,F34,F36

Fits BMW Engines including:
N20,N26,N55,N63N,S63,S63N

Part #: 11747626351
In Stock
Free Shipping