E84 SM-10

The SM-10 combines a straight 10-spoke design with their I-beam milling technique to produce a lightweight wheel that is a departure from our traditional mesh styles. Multiple face profiles continue to provide unmatched big brake clearance.

For accurate results, specify your model below.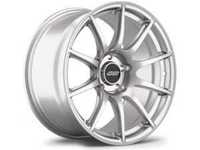 The new SM-10 APEX design uses both Flow Forming construction, making the wheel from one solid piece, and a new "I" beam machining technique. This wheel a is break from the traditional mesh styles available from APEX. This new "I" beam machining process mills out a slight amount of material in the spokes to both reduce weight and add visual appeal with a feature normally only found on some of the most expensive race wheels.
APEX light alloy wheels are the next evolution in flow-forged wheel technology for BMWs. Flow-forming is a semi-forging process that produces a wheel typically stronger than a traditional cast wheel yet is still light weight. The wheels are around 10lbs lighter per wheel than a comparable factory wheel! That's reduced unsprung weight that improves all aspects of performance. The spokes and barrel have been designed to allow generous clearance for big brakes. In other words, these wheels are very impressively engineered and look great too! The design is based on classic motorsport themes that blend with BMW styling and appearance. These wheels look right at home on many BMW models. Multiple color and profile options allow you to set just the right look and stance for your car. As well as being pleasing to the eye these are very strong and functional wheels that are at home on the street as well as the racetrack. Don't let the price fool you - these wheels are high quality, high strength, and in high demand.
Note: careful consideration of wheel width, offset and tire sizing must be observed when choosing and installing larger wheels. Adding larger wheels may lead to rubbing on suspension components or bodywork. Wheel spacers, new alignment settings, inside fender modifications, or other adjustments may be required.

Part #: SM10APEX9
Direct Ship