BMW E88 Aero & Body Kits

Body kits include front, side, rear, and other components to completely alter or update the appearance of your BMW. These may not be wild and attention-getting add-ons. We offer many pieces that replicate factory bodywork from M3, M5, M Sport and other BMW factory aero kits. Updating the trim and appearance is a great way to add value and refresh your car's ordinary looks.
You're currently viewing parts for your
(E88) 1-series Convertible 2008+
.
Reset your chassis

For accurate results, specify your model below.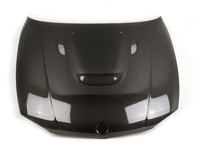 Founded in 2003 Seibon Carbon excels in delivering premium quality carbon fiber products to those with discerning tastes. The process begins with the best carbon raw material manufactured in either USA or France; in fact it is the same stock that can be found on high performance racecars, battleships and satellites. Supporting race teams is one of Seibons' specialties and you will see their work in many different platforms and racing types. Drivers such as Michele Abbate in her Scion FRS racecar, Fredric Aasbo in his Formula D Scion tC and even team RS-R in Asian Formula D all rely solely on Seibon to get them to the podium.
Using single piece construction, the carbon is laid inside of a mold instead of being wrapped around it. This allows for a much stronger piece in the end and allows much greater control when the resin is applied. Areas such as door hinges, hood latches and window regulator mounting points are reinforced so as to add strength and longevity through repeated use. Application of the resin is then accomplished using proprietary techniques that allow for a much more uniform coating than most competitors and yields a product that is lighter, since there is no excess.
Finally the product is finished with a glossy clear coat this resists chipping and cracking and gives a glossy wet look. Inspection of the finished product is then performed to ensure there is no weave distortion in tight corners or complex bends.
Features:
Proprietary methods to lay wet carbon for a stronger and lighter product
UV resistant resins, even a weathered part can be wet sanded and brought back to original finish
Panels are 70% lighter than stock as opposed to competitors which come in around 50% lighter than stock.
No black paint is used to hide imperfections along detail edges and creases.
Partnered with SCCA and Formula Drift bringing their top quality fit and finish to the competition environment.
This item fits the following BMWs:
2004 - 2013 E82 1 Series Coupe 128i 135i 135is 1M Coupe
Part #: HD0809BMWE822D-B
Ships in 8 days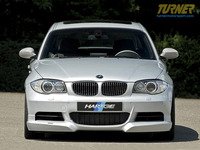 Hartge's front chin spoiler adds a lot of character to the 1-series' front end. The lines of this lip spoiler closely follow the stock M Aero package front spoiler and add definition and heft to BMW's smallest car. This add-on spoiler gives the 128i or 135i extra presence and makes it look unique. When installed, the spoiler becomes 1.5" closer to the pavement. This spoiler is made from high-quality PU-RIM urethane, just like the factory bumper and aero pieces. The urethane material means it is lighter than a fiberglass piece, less resistent to warping from heat, and has some flexability to keep from cracking during an impact. Installation adhesive is included.
This lip spoiler fits the following BMWs:
2008-2012
E82 BMW
128i 135i coupe (
only cars with M Aero Package front spoiler
)
2008-2012
E88 BMW
128i 135i convertible (
only cars with M Aero Package front spoiler
)
Part #: 51820100
In Stock