BMW E9 30CS Exhaust Gaskets Hangers and Parts
Exhaust systems are typically split among multiple sections and each section has its own form of fasteners and attachment points. The gaskets, hangers, and seals that join each section together should be replaced any time the exhaust is removed. As the exhaust is tightened together the gaskets and seals are crushed or deformed to form a tight seal. Re-using them is possible but greatly opens up the potential for an exhaust leak. Exhaust leaks can lead to a number of major and minor problems including power loss, check engine faults, and noise issues. Replacing your hangers and gaskets will ensure you don't have to take the exhaust down all over again.

For accurate results, specify your model below.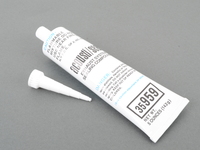 With years of experience with dealing with exhaust systems of all kinds, we've found this product to be the BEST at fixing or preventing exhaust leaks. Just apply a light coating of Acousti/seal to pipes, flanges or slip-fit clamps before assembly for a leak free installation. 5 ounce tube (142 grams). UPS Ground shipping to the lower 48 US states only.

Part #: 35959
Ships in 1 day

Free Shipping
on orders $199 and up