BMW E9 30CS Electrical Sensors, Switches, & Relays
Electrical gremlins can be very frustrating. Luckily your BMW's electrical system is better than most, even if it's 25 years old. Here you will find electrical relays, sensors, switches, and modules for the engine, camshaft, and crankshaft. Our parts are OEM, Genuine BMW, or approved aftermarket brands that we have an excellent track record with. There is no middle ground with electrical parts - it either works perfectly or not. And there's nothing more frustrating than a new part that fails right out of the box. So it's important to choose quality replacement parts over a cheap but faulty piece.

For accurate results, specify your model below.
When doing any sort of repair or maintenance there is no replacement for genuine factory parts. Turner Motorsport carries the Genuine BMW brand with pride and has the parts you need to complete your next project with confidence.

Genuine BMW Adapter - Voice Recogn.


Part #: 84110018038
Ships in 5 days

Free Shipping
on orders $99 and up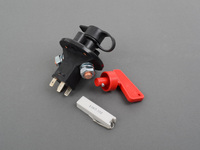 OMP Battery Cut Off Switch / Kill Switch, for use in racecars as an emergency "kill switch", to depower the electrical system in the event of a crash or other emergency. This cut off switch is FIA approved, has 6 poles and alternator protection, as well as a removable key.

Part #: EA-462
Ships in 3 Days

Free Shipping
on orders $99 and up