BMW E91 Water Pumps

When maintained, your BMW's cooling system should be bulletproof. The weakest link on any BMW model is likely to be the water pump, thermostat, or electrical parts on the newer models. BMW water pumps have gone through many design and material changes over the years in an effort to make the cooling system more efficient and reduce parasitic drag on the engine. The water pumps we sell are the latest and best designs that BMW and OEM suppliers can produce. Whenever possible we prefer to sell a water pump with a composite impeller, not metal. The latest BMW designs use a composite impeller that is far lighter than metal and much stronger than plastic. Metal impeller pumps are typically heavier and may have bearing problems that lead to premature leaks. Plastic pumps were infamous in the mid-1990s for disintegrating. The composite impellers have proven themselves for over a decade as a trouble-free and efficient design and many of the OEM suppliers are also introducing updated composite designs for older models too.
You're currently viewing parts for your
(E91) 3-Series Touring 2006-2013
.
Reset your chassis

For accurate results, specify your model below.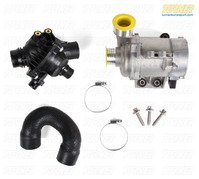 This packages covers the major components you would install along with a new water pump or thermostat. On the N51/N52 cars (128i, 325i 328i, 330i, 525i, 528i, 530i) the water pump and theremostat are mounted together. In fact, to get to the thermostat, BMW expects you to remove the water pump. This package covers the whole job. With the electric water pump now an integral part of the efficiency and performance of the engine, staying on top of its maintenance and replacement is the smart thing to do.
Our water pump/thermostat overhaul includes:
OEM electric water pump, p/n 11517586925.
aluminum mounting screws for water pump (set of 3), p/n 11510392553
OEM Behr thermostat, p/n 11537549476
Original BMW connecting hose from thermostat to water pump, p/n 11537521049
OEM-style hose clamps for hose (x 2)
BUY AS A PACKAGE AND SAVE $$!

The water pump on the N52 engine has more cooling responsibilities than ever before. Not only must it provide cooling for the engine, but it's also pumping fluid used to cool the automatic transmission oil. The good news is that the pump only works when, and only as much, as it needs to. The engine computer dictates how much fluid needs to be pumped through the system depending on the load. That means the system can actually stop the pump when warmer temperatures are needed. No longer is the pump spinning all the time from an engine-driven belt. The bad news is that it's now an electrical part, so a failure is usually immediate and with no warning. And if the electronics are at fault, there is no way to rebuild or repair it. Fortunately, the engine computer will force a shut down or reduce power if a problem occurs, preventing catastrophic engine damage.

How to avoid a water pump failure in the future? Replacing the water pump as part of a regular interval schedule will ensure you always have a functioning pump in place. Since this technology is relatively new for BMW, therefore the lifecycle of the pump isn't yet known, we have been recommending replacement every 80-100k miles. This package of OE/OEM parts covers everything with Original BMW coolant offered to finish off the job. A proper bleeding procedure must be followed with the new electric pump.

This water pump package fits the following BMWs with the N51/N52 engine:
2008-2013 E82 BMW 128i
2006-2011 E90 BMW 325i 325xi 328i 328xi 328i xDrive 330i 330xi - Sedan
2006-2012 E91 BMW 325xi 328i 328xi 328i xDrive - Wagon
2007-2013 E92 BMW 328i 328xi 328i xDrive - Coupe
2007-2013 E93 BMW 328i - Convertible
2006-2010 E60 BMW 525i 525xi 530i 530xi 528i 528xi 528i xDrive
2006-2010 E83 BMW X3 3.0i X3 3.0si
2006-2008 E85 BMW Z4 2.5i Z4 3.0i Z4 3.0si
2009+ Z4 BMW Z4 sDrive30i
2009+ Z4 BMW Z4 sDrive28i Z4 sDrive30i Z4 sDrive35i Z4 sDrive35is

Packaged by Turner
Part #: TMS206099
In Stock
Free Shipping

These aluminum water pump screws are single use and must be replaced each time they are removed. These are used on all 325i, 328i, and 330i with the BMW N51 N52 and N53 engines. They were also used on some early N54 engines that have rubber mounts on the water pump housing. Do not use these bolts if your N54 water pump has been replaced with a housing that does not have the rubber mounts.
In German, Rein means Pure. In the automotive industry the Rein name has quickly come to represent quality. With fitments for some of the world's finest automobiles including BMW and Mini and guaranteed OE quality, Rein is a name you can trust.
This item fits the following BMWs:
2008+
E82
BMW 128i 135i
2007+
E9X
BMW 325i 325xi 328i 328xi 330i 335i 335xi
2006+
E60
BMW 525i 525xi 528i 528xi 530i 530xi 535i 535xi
2006+
X3
BMW X3 3.0i X3 3.0si
2006+
Z4
BMW Z4 3.0i Z4 3.0si

Part #: 11510392553
In Stock

Free Shipping
on orders $199 and up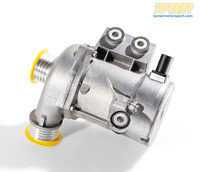 Don't take your car's cooling system for granted. A waterpump failure can cost you an engine, which is why preventatively replacing your BMWs waterpump and refreshing the cooling system every 60,000 miles. The water pump is a weak point is the cooling system. Replacing your waterpump will go a long way for keeping your car on the road and operating properly. This water pump fits many 2006 and newer BMW 6 cylinder engines, specifically all the BMWs with the N51, N52, N53 engines. You will also need to purchase replacement aluminum screws Part #11510392553
Pierburg pumps are some of the most trusted and widely used on the market. From fuel, water, air and vacuum Pierburg has you covered with OE quality and reliable performance year after year.
This water pump fits the following BMWs:
2008-20xx E82 128i
2006-2006 E90 325i sedan, 330i sedan, 325xi sedan, 330xi sedan
2007-2012 E90 328i sedan, 328xi sedan, 328i xDrive sedan
2007-2012 E92 328i coupe, 328xi coupe, 328i xDrive coupe
2007-2012 E93 328i Convertible
2006-2006 E60 525i, 525xi, 530i, 530xi
2007-2010 E60 528i, 528xi, 528i xDrive
2007-2010 E83 X3 3.0i X3 3.0si
2007-20xx E70 X5 3.0si X5 xDrive30i
2006-2008 E85 Z4 3.0si
2009-20xx E89 Z4 sDrive30i

Part #: 11517586925
In Stock
Free Shipping