BMW E91 Wiper Blades, Wiper Pumps, & Wiper Motor Parts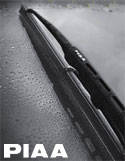 A properly performing wiper system is essential for the safety for you and your BMW. We carry all BMW wiper system parts including upgraded PIAA Silicone Wiper blades, BMW windsheild washer pumps, and BMW wiper motors. We recommend replacing wiper blades yearly and inspecting the wiper system annually.
You're currently viewing parts for your
(E91) 3-Series Touring 2006-2013
.
Reset your chassis

For accurate results, specify your model below.