BMW E91 Aero & Body Kits

Body kits include front, side, rear, and other components to completely alter or update the appearance of your BMW. These may not be wild and attention-getting add-ons. We offer many pieces that replicate factory bodywork from M3, M5, M Sport and other BMW factory aero kits. Updating the trim and appearance is a great way to add value and refresh your car's ordinary looks.
You're currently viewing parts for your
(E91) 3-Series Touring 2006-2013
.
Reset your chassis

For accurate results, specify your model below.

Our dry carbon wheel well splitters are made with high performance vehicles in mind. These dry carbon wheel well splitters are used to fine tune the front aerodynamics of a race car or street car to compliment existing aero modifications.
These wheel-well splitter provide two benefits to high performance vehicles - the first is redirecting the airflow past the front of the wheel well right to the wheels, eliminating turbulence. Secondly, they adds more frontal surface area for airflow to effectively apply more downforce. The splitters feature a tapered surface area with slots, enabling fine tuning of frontal downforce.
Each dry carbon downforce wheel-well splitter requires 4 Phillips 3/4" self tapping #2 screws. These are flat tapered strips that will flex to fit your vehicle's wheel wells.
Length: 61.7CM
Width: 5.2CM-7CM
Thickness: 1.5MM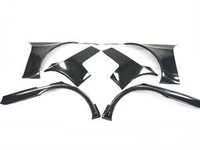 Inspired by the BMW Motorsport WTCC E90's, the HARD Motorsport LEICHTBAU E90 Widebody kit will give your E90/E91 significantly more width to run aggressive wheel and tie combo's. Extensive design and installations have created a practical widebody kit that would incorporate stock body panels, prevent a ton of custom body work. Made from thermoformed ABS plastic, these kits are durable and flexible and easily modified for slight fitment adjustments when installed.
Product Specifications:
Modification and cutting of stock fenders is required to properly fit this kit.
Rivets provided for installation. (Kit may be installed with automotive body adhesive)
The width of the flare will vary along the wheel arch. Our test and measurements show approximately 50mm in added width at each wheel at the widest point. For example, we are running an 18x11 et0 with a bit of room to spare. The E90 shown is currently running these wheels with 285/30 18 Dunlop Star Spec. (per class rules) We have PLENTY of room for more tire. Ideally we would be running a 315 square. Up to a 335 has been fit in the rear with this rear overfender.
Front nose panels designed for fitment to the aftermarket, Non-M E90 M-TECH, pre-LCI front bumper. (Sold Separately) !!!! This bumper CAN be installed on a LCI model E90. Simply install your LCI kidney grills !!!!
Fits the following vehicles:
E90/E91 BMW's w/ M-Tech Front Bumper
Part #: E90.WIDEBODY
Free Shipping