BMW E91 Performance Intake Kits

The BMW Performance line of intake kits deliver power gains with exceptional engineering and good looks. BMW Performance Intakes are designed to take advantage of a larger air filter to gain more cool air for the engine. The cooler and denser air will develop more power and torque. BMW engineers this kit for a perfect fit with materials and design consistent with the rest of the engine bay. With a factory-designed performance intake you get the power gains of an aftermarket kit blended with style and engineering direct from BMW.
You're currently viewing parts for your
(E91) 3-Series Touring 2006-2013
.
Reset your chassis

For accurate results, specify your model below.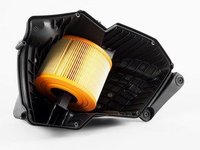 This Euro air intake is less restrictive than the stock intake and also allows much easier acces to the air filter from the top. In addition, this airbox uses a cylinder style filter instead of a standard square filter for higher flow.
The MAF sensor from your original airbox will need to be reused as the connector in the Euro box is a small 2-pin connector.
GENUINE BMW INTAKE MUFFLER.

Part #: 13717552437
Free Shipping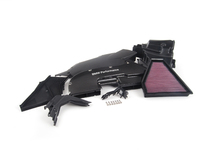 Upgrading to a BMW Performance air intake system for your E90, E92, E93 will unleash gains of up to 3 horsepower and 3 ft-lbs. of torque for your 3 Series, while also helping the engine to operate more efficiently with a 30% reduction in back pressure and increased overall performance. Kit includes new air box, covers and filter.
This item fits the following BMWs:
2006+
E90 BMW
325i 325xi 328i 328xi 328i xDrive 330i 330xi- Sedan
2006+
E91 BMW
325xi 328i 328xi 328i xDrive - Wagon
2007+
E92 BMW
328i 328xi 328i xDrive - Coupe
2007+
E93 BMW
328i - Convertible

Part #: 13720444751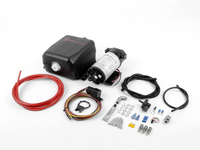 Looking for that last little bit that leaves you flying by the seat of your pants when you get on the throttle? Here's the product you've been looking for. With this stage 1 kit from Snow Performance, you can get the maximum performance out of your car. Whether tuning for more boost or looking for better cooling, this kit is the perfect solution. This stage 1 controller, operates based on boost load. When the user-chosen boost target is hit, the water/meth mixture is injected through the nozzle. This system is ideal for low to medium boost set ups (1-15 PSI). Flow can also be set based on full throttle, among other user-controlled options.
Features:
300 PSI UHO (Ultra High Output) Pump
3 Quart Reservoir
All Tubing Necessary for Installation

10' ¼ Inch High Temp Nylon Tubing
18" High pressure Boost Line
3' (Black) Wire Loom

Boost Switch (1-15 PSI)
Pig Tail Harness
Level Switch Upgrade
1 Nozzle Holder/Check Valve Combo
2 Hyper-Sonic™ Nozzles
Required Hardware Needed For Installation
Snow Performance Running S Decal
Comprehensive Instructions to Install on Any Forced Induction Vehicle
Snow Performance 1-Year Warranty

Part #: 20001
Free Shipping