BMW E91 Performance Exhaust Systems

BMW Performance exhaust systems are tuned by in-house BMW engineers to subtly enhance the sound and performance of your BMW. They have engineered these systems to fit perfectly, sound beautiful, utilize advanced materials, and blend with the styling of your car. BMW Performance exhausts are not too loud - focusing on enhancing the sound rather than blaring it. By opening up the exhaust and removing restrictions, the engine can work less to move the exhaust gasses through the system. This means a bit more power in addition to that sexy growl they produce.
You're currently viewing parts for your
(E91) 3-Series Touring 2006-2013
.
Reset your chassis

For accurate results, specify your model below.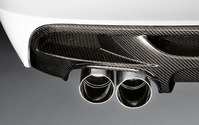 This is a factory BMW Performance exhaust for the 6/2006-2012 E90 325i 328i, 328Xi 330i sedans. This is a factory BMW accessory so it fits great, looks and sounds phenomenal, and is exceptional quality. The sound is mildly more aggressive than the stock exhaust with a slightly more throaty note. This exhaust will waken up the stock 328 personality with a better sound and improved flow. If you feel the stock exhaust is just TOO quiet this is a great option without going overboard. To quote one user, "It feels much different than a stock 328i. Quiet enough to sound classy, and a clean sporty growl when you rev it up."
This exhaust is a two-piece system that includes the rear muffler and center resonator. On some models you will need to cut the stock exhaust after the resonator to install this; other models are already a two-piece system. A BMW factory exhaust clamp is included to mount to the factory cat section. We also recommend using the exhaust sealing paste to ensure a leak-free install.
This item fits the following BMWs:
6/2006+
E90 BMW
325i 325xi 328i 328xi 328i xDrive 330i 330xi - Sedan
6/2006+
E91 BMW
325xi 328i 328xi 328i xDrive - Wagon

Part #: 18102208793
In Stock

aFe Power's new "Race Only" Twisted Steel Headers deliver an astounding 16hp and 18lbs. x ft. torque while outflowing the factory exhaust manifolds. The headers are constructed of near equal length 1.5" 16-gauge 304 stainless steel tubing with thick flanges to ensure a leak free seal. To eliminate dead space that can cause turbulence and hinder flow that formed collectors are prone to produce, true merge collectors and optimized tube lengths are used for true pulse control technology improving flow and performance. 100% TIG-welded, the smooth curves and increased diameter of this header helps remove restriction and keeps exhaust gas flowing smoothly for improved performance and durability. It uses dual, high flow, 300 cell catalytic converters for maximum flow providing an astonishing low end torque improvement. All components are supplied for a hassle-free installation with no modifications necessary.

Tig-Welded:
100% TIG-Welded by certified craftsmen for race proven strength and durability. TIG-Welding provides the strongest welds reducing stress cracks.

Dual High Flow Catalytic Converters:
The semi-metallic 300 cell catalyst is designed for maximum surface area and flow.

Retains Factory Sensors:
aFe has designed this system to retain all your factory sensors for a hassle free installation. Also included are 6 O-ring header flange gaskets.

Mitered Collectors:
Mitered collectors not only extend the tube lengths and decrease turbulence, but provide optimal exhaust scavenging. The result is increased horsepower, torque and improved throttle response.

304 SS Construction:
These headers are constructed of durable CNC mandrel bent brushed 304 stainless steel tubing for maximum performance, corrosion resistance and strength eliminating cracking.

aFe headers are engineered and manufactured in our Corona, California manufacturing facility.

Note: This is a "Race Only" product used solely for competition. Its use is limited to closed-course and open-course racing that is formally sanctioned by a recognized racing organization. Any other use including recreational off-road use could be in violation of local, state and federal laws.
This part alters or deletes the emissions equipment on your car, and may not meet emissions standards in all states. Because of this, we require a waiver of emissions compliance to be signed and sent in to TMS. You can download the waiver here.

This Kit Fits:
BMW 128i (E82) 08-13 L6-3.0L
BMW 325i 325xi 328i 328xi 328i xDrive 330i 330xi (E90) 06-11 L6-3.0L - Sedan
BMW 325xi 328i 328xi 328i xDrive (E91) 06-12 L6-3.0L - Wagon
BMW 328i 328xi 328i xDrive (E92) 07-13 L6-3.0L - Coupe
BMW 328i (E93) 07-13 L6-3.0L - Convertible

Part #: 48-36307KT
Direct Ship