BMW E91 Hawk DTC-30 Racing Brake Pads

Hawk Performance has dominated Motorsport race tracks since 1990, offering highly-engineered friction products for nearly every type of racing. The DTC - Dynamic Torque Control - high torque with aggressive controllable initial bite. Superior release and torque control characteristics. These pads are designed as a step in between a Hawk HP Plus and a full race pad like the DTC-60 or Blue.
Moderate-high initial bite
Consistent torque over all pressures. More torque than HP Plus pads but less than all-out race pads.
100-1200°F
Excellent torque control
Excellent modulation and release characteristics
These pads should not be used on the street due to noise and rotor wear. But if you want DTC-30 stopping power in a more street-friendly design, check out the Hawk StreetRace pads.
You're currently viewing parts for your
(E91) 3-Series Touring 2006-2013
.
Reset your chassis

For accurate results, specify your model below.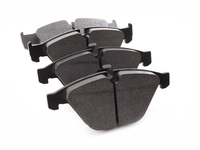 Hawk DTC-30 brake pads fill a spot between the entry-level HP Plus pads and an all-out race pad like the Hawk Blue or Pagid Orange. If you started out with HP Plus but feel like you are ready to advance to a more aggressive pad these are an excellent choice. The DTC-30 pads have greater torque output than an HP Plus and a very consistent torque curve which makes them more capable during hard track use than an HP Plus. These are intended for advanced users but should not be considered all-out race pads (unless used to balance brake bias).
The Hawk DTC (Dynamic Torque Control) compound offers the highest friction coefficients of any Hawk pad. The DTC pads offer high torque with aggressive and controllable initial bite, superior modulation and release characteristics, and excellent torque control. DTC-30 compound is often used as a replacement to Hawk Blue when more torque is wanted.
DTC-30 Features:
Moderate-high initial bite
Consistent torque over all pressures
Operating temp range: 100-1200°F
Controllable torque
Superior modulation and release
Excellent pad and disc wear
These front Hawk race pads fit the following BMWs:
2011+ E82 BMW 1M Coupe
2008-2011 E9X BMW 328i, 328Xi,/b>
2007-2011 E9X BMW 335i, 335Xi, 335d
2008-2011 E9X BMW M3
2004-2005 E60 BMW 525i (automatic transmission only)
2006-2007 E60 BMW 525i, 525xi (all transmissions)
2008-2010 E60 BMW 528i, 528xi
2004-2007 E60 BMW 530i, 530xi
2008-2010 E60 BMW 535i, 535xi
2004-2010 E60 BMW 545i, 550i
2004-2010 E63 BMW 645Ci, 650Ci
2002-2008 E65 BMW 745i, 745Li, 750i, 750Li, 760Li

Part #: TMS212701
Direct Ship