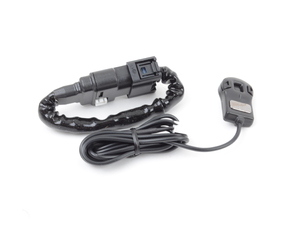 When BMW began using the "Drive-by-wire&quot...

When BMW began using the "Drive-by-wire" throttle system in 2001, a lot of people cringed. The Drive-by-wire system uses electronics to replace the mechanical cable throttle of the past. This means the electronics between the accelerator pedal and motorized throttle must interpret what your right foot does, and ultimately decides how the engine will respond. Although advanced in it's technology and engineering, many of us agree that the Drive-by-Wire equipped BMWs feel unresponsive and lack the crisp, sharp throttle response that older BMWs had with a traditional throttle cable. That's where the Sprint Booster comes in.

The Sprint Booster is an in-line "plug and play" module, that remaps the Drive-by-Wire throttle curve to be much quicker than stock programming. It removes the "lag" or delay that exists in the stock electronic mapping. The result is sharper, quicker throttle response and immediate power delivery.

NEW! The Sprint Booster V3 are now out!
This update brings with it some exciting new features that give you a much wider choice of selections including:
36 Acceleration Programs
Valet Mode
Pedal Lock Mode
3 year Warranty

We found the difference to be NIGHT AND DAY, and were instantly smitten by the snappier feel the Sprint Booster gave to both a stock BMW as well as on a modified BMW. What's more - the Sprint Booster installs in just a few minutes at the back of the gas pedal. Simply release pedal from the pedal base by unlocking the locking tab, pull the pedal up/foward, unplug the harness, and plug in Sprint Booster. Here's an example of how simple the install is -- installation on an E46 3 series. Full for 3 series installation instructions, click here.

How does it work? The Sprint Booster listens to the pedal input signal, and sends an improved signal to the ETC (electronic throttle control) which has been amplified or "boosted", so that the throttle is more responsive throughout the entire rpm range.


This product qualifies for FREE FEDEX GROUND shipping within the 48 contiguous United States.

The Sprint Booster is available for the following BMWs:
2008+ E82/E88 1 Series including 128i & 135i
2016+ F87 BMW M2
2001-2006 E46 3 Series including 325i, 325Ci, 330i, 330Ci
2001-2006 E46 M3 coupe & convertible (manual & SMG!)
2006+ E90/E91/E92/E93 3 Series including 325i, 325xi, 328i, 328xi, 330i, 330xi, 335i & 335xi
2008+ E90/E92/E93 M3 coupe, sedan & convertible
2012+ F30 BMW 320i 320i xDrive 328d 328d xDrive 328i 328i xDrive 335i 335i xDrive - Sedan
2013+ F31 BMW 328i xDrive 328d xDrive - Wagon
2014+ F34 BMW 328i xDrive GT, 335i xDrive GT - Gran Tourismo
2013+ F32 BMW 428i 428i xDrive 435i 435i xDrive - Coupe
2013+ F33 BMW 428i Convertible 428i xDrive Convertible 435i Convertible 435i xDrive Convertible- Convertible
2014+ F36 BMW 428i Gran Coupe 428i xDrive Gran Coupe 435i Gran Coupe 435i xDrive Gran Coupe
2015+ F82 BMW M4
2001-2003 E39 BMW 525i 530i 540i
2004+ E60/61 5 Series including 525i, 525xi, 528i, 528xi, 530i, 530xi, 535i, 535xi, 545i, 550i & M5
2004+ E63/E64 6 Series including 645i, 650i & M6
2002+ E65/E66 7 Series including 745i, 745Li, 750i, 750Li & 760Li
2003+ Z4 & MZ4 Roadster & Coupe including Z4 2.5, 3.0 and M
2001+ X3/X5/X6 SAV (all)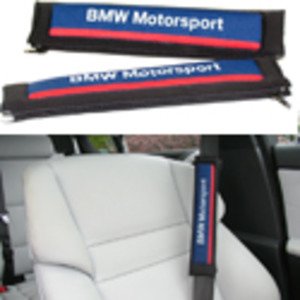 These original BMW Motorsport shoulder pads fit over any ...

These original BMW Motorsport shoulder pads fit over any street car seat belt or 2" harness belt. A zippered side makes these super easy to install on any car. High quality "BMW MOTORSPORT" embroidery will set your car apart from the rest. Also available in 76mm (3") harness width. Set includes two shoulder pads.
A classy loft jacket from AC Schnitzer, great for any occ...

A classy loft jacket from AC Schnitzer, great for any occasion!
--- These high quality desk chairs are designed to provide ma...
These high quality desk chairs are designed to provide maximum comfort and adjustability with the style and functionality of a high performance racing seat.

The Formula One Office chairs are available in Black-on-Black, Black-on-Red or Black-on-Silver. They feature lots of race oriented details to give you the feeling of being at the track in your favorite race car.

Standard Features:

Featured in Beautiful Leatherette
Embossed Tire Tread Cushions on Armrests

Racing Shock Adjustable Armrests

Ergonomic Lumbar Support System

Air Pump Provides Support to a 12" wide x 14" high area

Billet Aluminum Shift Knob: Provides Four Ergonomic Settings

Racing Suspension Spring & Brake Caliper Kit are a part of the 26" Wide Track Aluminum Alloy Base

(5) 22" Style Racing Wheels

Dimensions:

Chair Dimensions: 23.5" wide x 24.5" deep x 51" high

Seat Height Adjustable from 18.5" high to 22" high

Comfort Seat Area: 15" wide x 17" deep

Back Seat Area: 12.5" wide x 19" high

Arm Rest Height Settings: 11" - 12.5" - 13.5" height

Designed and Assembled in the USA.

---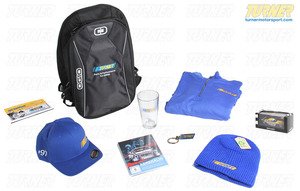 Our favorite 2016 BMW gift ideas, conveniently bundled in...

Our favorite 2016 BMW gift ideas, conveniently bundled in our new backpack. Can't decide which Turner Motorsport works best? Get them all and save $137! This makes a great package for one or more Bimmer fans in your family.

Our "Mega Stuffed Backpack" package includes:
+ $200 Turner Gift Certificate
+ Turner OGIO backpack
+ Turner Pint Glass
+ Turner Keychain
+ Turner Flexfit Baseball Cap
+ Turner Knit Cap
+ Turner 1/4 Zip Pullover
+ "Adrenalin" BMW Motorsport DVD
+ Minichamps Turner Z4 1/43 model
+ Turner Motorsport Sticker Sheet

Choose a hat option and pullover size from the options below.