BMW E92 M3 Hawk Blue Brake Pads

Hawk Performance has utilized world class technology to develop and manufacture superior disc brake and clutch materials for the Automotive/Racing industry. Hawk products include Ferro-CarbonTM, CarboticTM, Carbon-Carbon and full metallic disc brakes and clutches. Hawk Brake's persistent development of racing friction will not only set new standards, but will also greatly enhance the quality, performance and integrity of your racing programs!
FERRO-CARBONTM Racing Friction: Ferro-CarbonTM is a unique, high-tech friction material developed and manufactured by Hawk Brake for the racing community. All Ferro-CarbonTM materials exhibit non-fade performance and have been evaluated up to and beyond 1,800 degrees F. Each material offers lower wear rates and higher torque values than all other competition materials available on the market today.
These pads are strictly for track use ONLY! Unlike the TMS carbon pads above, Hawks are not designed to perform at low temperatures that are normally experienced in ANY street car!

For accurate results, specify your model below.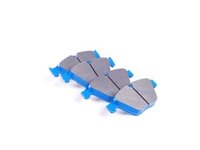 Hawk Blue racing pads are among the most aggressive track pads on the market. The formula for the friction material ensures a high level of braking performance especially at elevated temperatures. Hawk Blue pads have been a favorite of club racers for over a decade. Few pads can match their torque output at race temps. These pads do not work well when cold and will be abrasive to your rotors.
Features and Characteristics:
+ very high friction / torque performance
+ medium temp range
+ up to 1000*F
+ abrasive metallic content that requires heat
+ good, predictable modulation at high temps
Applications:
2011+
E82 BMW
1M Coupe
2008-2011
E9X BMW
328i, 328Xi,/b>
2007-2011
E9X BMW
335i, 335Xi, 335d
2008-2011
E9X BMW
M3
2004-2005
E60 BMW
525i (automatic transmission only)
2006-2007
E60 BMW
525i, 525xi (all transmissions)
2008-2010
E60 BMW
528i, 528xi
2004-2007
E60 BMW
530i, 530xi
2008-2010
E60 BMW
535i, 535xi
2004-2010
E60 BMW
545i, 550i
2004-2010
E63 BMW
645Ci, 650Ci
2002-2008
E65 BMW
745i, 745Li, 750i, 750Li, 760Li
Part #: TMS2019
Direct Ship