Rubber mounts are used to locate the differential to the subframe in RWD BMWs. This is one area that we like to focus on to improve power transfer, response time, and the overall feel of the drivetrain. By using a stiffer bushing you reduce or eliminate the 'wind up' and deflection of the stock rubber differential mounts when power is applied. A solid bushing will not twist when power (torque) is applied. Instead that power is directed to the drive wheels where it will do the most good. Our diff mount upgrades are solid rubber, Delrin, or aluminum kits depending on the application and the intended use. Even though these were developed for our race cars, we put them in a lot of street cars as well. The diff is not directly linked to the wheel and suspension so these are not as affected by bumps and road imperfections. Some additional drivetrain vibration may be felt through the chassis but in our experience it's very minimal. When installing one of our performance differentials make sure you also replace the mounts! And any subframe overhaul should also include solid diff mounts. There's no downside!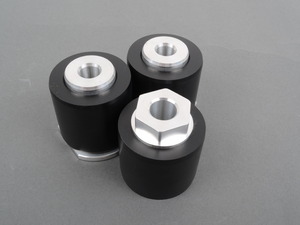 TMS E90/E92 M3 solid differential mounts are designed around current Grand Am Cup regulations, derived from, and currently used in TMS racecars. Thick Delrin casings are used as the non-metallic solid bushing. Replacing your differentials rubber mounts with this kit will result in a snappier feel when cornering and better suspension performance. You save money by never having to replace the stock rubber mounts that fail due to old age and fatigue. These bushings are CNC machined in the USA and made with high-grade materials.

This item fits the following BMWs:
2011-2012 E82 BMW 1M Coupe
2006-2011 E90 BMW M3 - Sedan
2007-2013 E92 BMW M3 - Coupe
2007-2013 E93 BMW M3 - Convertible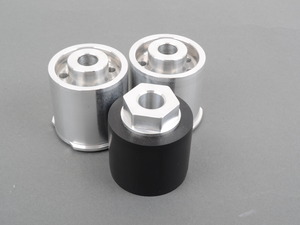 An aggressive mount design for increased cornering feel, and improved suspension performance.