Flywheels don't last forever. They should be treated like any ordinary wear item. Sachs recommends a new dual mass flywheel (DMF) on every other clutch replacement. There are several indicators for replacing the flywheel: damage to the clutch contact plate (from a severely worn clutch disc), grease leaking from inside (overheating), build-up of clutch material on the contact plate (excessive slipping and overheating), and failure of the internal damping system.
The dampening system uses rubber or coil springs to absorb driveline vibrations. Through age, excessive heat, and aggressive use the rubber loses its resilience and the metal springs lose their strength and become brittle. If the clutch and flywheel have become overheated the internal grease may break down as well. A DMF failure can be massive and catastrophic, not to mention dangerous as bits of metal and rubber fling themselves through the transmission bellhousing. Heat and aggressive driving will accelerate the wear so race and track cars should have their stock flywheels replaced at regular intervals or with any new clutch. Even normal street cars should plan for a new flywheel if it has high mileage.
DMF wear can only be checked with the transmission and clutch removed. If you can rotate the outer flywheel more than 20mm in either direction then it should be replaced.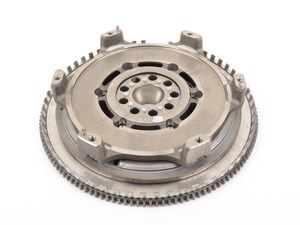 This is an OEM LuK stock twin mass flywheel for E9X M3 S6...

This is an OEM LuK stock twin mass flywheel for E9X M3 S65 engine. When your clutch starts to experience engagement chatter because of hot spots and wear, replacing it with this OEM dual mass flywheel will restore your vehicles driveability and have you clutch shifting smoothly again. OEM replacement for BMW part # 21212283820 and 21212283499.
OEM Schaeffler (INA, LuK, & FAG) is an engineering company that focuses on high-performance, precision manufacturing. With their individual brands INA, Luk, and FAG providing exceptionally high quality parts directly to BMW, as well as countless other automotive companies, their history of reliability and variety of offered parts makes Schaeffler a go-to replacement parts provider for all of us here at Turner Motorsport.
As a leading source of high performance BMW parts and accessories since 1993, we at Turner Motorsport are honored to be the go-to supplier for tens of thousands of enthusiasts the world over. With over two decades of parts, service, and racing experience under our belt, we provide only quality performance and replacement parts. All of our performance parts are those we would (and do!) install and run on our own cars, as well as replacement parts that are Genuine BMW or from OEM manufacturers. We only offer parts we know you can trust to perform