BMW E92 M3 Performance Headers & Downpipes

Headers are a bolt-on component that will make a huge improvement in how your BMW performs. As a replacement for your factory BMW exhaust manifold, our BMW headers provide a more direct path for exhaust gasses leaving your engine. Headers prevent your BMW's exhaust pulses from "fighting" one another as they leave the head. The end result is that BMW headers give you more power and torque, and you'll love the high-winding top end push that a free-breathing engine exhibits. BMW headers are a must-have if you're doing any engine modifications on your vehicle. Along with a cold air intake, BMW headers provide the free-flowing exhaust necessary to get the most power out of your motor.

For accurate results, specify your model below.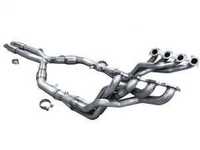 American Racing Headers is a performance exhaust manufacturer that specializes in high flow header systems. They have made a huge name for themselves since their creation in 2005 in the domestic world and are venturing into the Euro scene, now offering premium exhausts for BMW. Made 100% in the USA, located in Deer Park, New York, of 304 stainless steel and hand welded to ensure the best fitment possible, these headers and exhaust systems are perfect for high performance and long term durability. Within just a few years, the were noticed by the "Big-Three" auto giants in the US and were soon the Tier-One supplier of racing headers for the Ford Cobra Jet Mustang, General Motor's Copo Camaro, Chrysler's Drag Pack Challenger, and the Dodge ACR-X Viper.
Sound Example from American Racing Headers:

As shown above, their E9X Header to Axle exhaust system's are perfect for giving your vehicle both a much more aggressive sound when paired with stock or aftermarket exhausts and unleashing the potential power of your 4.0L S65 V8.
The first parts down the line are their signature high flow headers! Using header primaries that are larger than stock and merge collectors that are in-house designed to improve flow as much as possible using a vortex scavenging design, these headers allow a significant improvement in total exhaust flow resulting in higher torque and horsepower numbers throughout the RPM band. The primary tubes come in 2 sizes: 1-5/8" diameter or 1-3/4" diameter. 1-5/8" primaries offer a moderate improvement over stock allowing for less restriction directly at the head and down to the collector. This size will better benefit vehicles that are mostly stock and with a tune and performance intake. 1-3/4" primaries offer a more sizable improvement, allowing for vehicles built much more aggressively to benefit greatly. Vehicles with performance cams, higher performance tunes, and other heavy modifications will be able to efficiently expel exhaust gases thanks to the lower restriction and will be able to see much higher numbers on a dyno and feel a difference on the street or strip.
After passing through the manifold, the exhaust gases come to the second component of this performance system, the 3" X-pipe that is available with or without catalytic converters. X-pipes are great for two reasons: More even exhaust flow throughout the power band, thus improving engine efficiency, and an steadier exhaust note that gives off a super-car feel instead of the traditional pulsating that gives your car an old muscle car sound. This helps express the natural sound of the exhaust both at idle and under heavy acceleration. Catalytic converters are the next option to choose from. Building a car for the track only? Cat-less is the answer. Looking to drive your vehicle both on and off the track? The 200-cell high flow catalytic converters keep you both road legal and they are virtually restriction free for continued high flow exhaust. In addition, the x-pipe is built with O2 bungs installed, ready for your sensors to be reinstalled.
Last in line is the center section with two 3" exhaust pipes available with or without resonators. Some people prefer to eliminate the resonators to get the most aggressive growl out of their exhaust as possible, and others like to keep these in place to help eliminate high RPM drone that can become slightly irritating when driving long distances. More of a personal preference, this just allows for even further exhaust customization.
Product Features:
100% Made in the USA - Never Outsourced
Made entirely of 304 stainless steel
3/8" thick laser-cut flanges for a warp-free seal
1-5/8" or 1-3/4" exhaust header primaries for higher flow
Hand-ported TIG welded inlets
Optimized primary tube routing for superior fit and performance
Merge collectors complete with internal welded scavenger spikes
Catted systems feature 200 cell metallic substrate catalytic converters for extreme durability
High flow x-pipe for exhaust flow balance and smoothness.
Dual stainless 3" center-section pipes available with or without resonators
Hardware for assembly included
If you decide to purchase the catless system: This part alters or deletes the emissions equipment on your car. Removing the primary cats will result in a check engine light and faults for the missing cats. Special software or modules will be required to prevent the codes but this setup will not be street legal. This was designed for race and track use only. Because of this, we require a waiver of emissions compliance to be signed and sent in to TMS. You can download the waiver here.
This product fits the following vehicles:
2007-2013 E9X BMW M3

Part #: ARHE9XM3LS
Direct Ship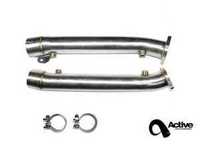 These Active Autowerke Test Pipes are a simple way to eliminate your catalytic converters and free up some hidden horsepower! These test pipes are very easy to install, a perfect weekend project. All it takes is a few hand tools, a tape measure, and your preferred method of cutting away some of the stock exhaust system.
Made of 100% Brushed stainless steel it bolts right up to the factory exhaust headers and provides a tight seal with the new set of TORCA clamps that are also included with the Test Pipe kit.
FEATURES:
Easy BMW horsepower gains
All stainless steel construction with a brushed finish
Precise and tight seal to factory headers
Beefy, support brace integrated
Z STYLE expansion slot for a tight seal
Industry standard TORCA Clamps included
Complete instructions included
Limited 2 Year Warranty included
This part alters or deletes the emissions equipment on your car. Because of this, we require a waiver of emissions compliance to be signed and sent in to Turner Motorsport. You can download the waiver here.
Fits all E9X BMW M3's.

Part #: 11-019KT
Direct Ship