BMW E92 M3 UUC Short Shift Kits

UUC designs and manufacturers their own precision-engineered shifter components and complete short shift kits. Hands-down, UUC stands above the rest with kits that are custom tailored to your specific BMW model. UUC short shift kits are constructed from 100% stainless steel and aluminum and feature a flex free lever – far superior than other kits that use a modified BMW shift lever. Long lasting materials are used throughout the rest of the kit as well. Each Evo 3 short shifter comes with a sealed bearing at the lower pivot point that eliminates friction. And Delrin shifter carrier bushings are available on most models to eliminate excess side-to-side movement of the shifter. Each UUC Evo short shift lever is height-adjustable from stock shift knob height to .75" lower for superior ergonomics.

For accurate results, specify your model below.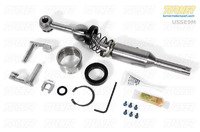 UUC's Ultimate Short shifter has been rated #1 over all competing brands in a major BMW enthusiast magazine. Simply put, there is nothing better available at any price.
This short shift kit is made specifically for the 2008 and newer M3, in either E90 sedan, E92 coupe, or E93 convertible chassis. This short shift kit works on all 2008, 2009 and newer M3 with 6 speed manual transmission. Constructed of 100% stainless steel and aluminum, it offers the same superior features that put the UUC short shifter kit at the top of it's game. If your like us, and feel the 2008+ M3 suffers from somewhat uninspiring, soft, floaty and vauge shifter feel, this UUC EVO 3 short shift kit includes everything to correct this. All the parts to transfrom your shifter for shorter throw, tighter feel, and more responsiveness while driving your ultimate driving machine.
Want the ultimate shifter feel, with the least amount of lateral play?
Upgrade this kit by adding a UUC
Dual Shear Selector Rod
("DSSR" for short). A DSSR can be added to any shifter setup (stock or aftermarket, including this UUC EVO3), and when combined with the EVO3, you will have the most accurate, most precise, and simply the best shift setup available for your BMW. To upgrade this EVO3 kit to include a DSSR, simply choose from the options below. To read more about the DSSR,
click here
.
This UUC short shift kit fits the following BMWs:
2008+
E90 M3 Sedan
with 6 speed manual
2008+
E92 M3 Coupe
with 6 speed manual
2008+
E93 M3 Convertible
with 6 speed manual

Part #: USSE9M
In Stock
Free Shipping