BMW E92 M3 Turner Motorsport Racing Suspension Kits
Turner Motorsport got its start at BMW CCA and SCCA track events in the early 1990s. It was Will Turner's Club Racing championships that promoted the company as a leader in BMW performance tuning and motorsports. Suspension tuning was one of the things that cemented our repuation as BMW tuning professionals. Since our early years we have developed total package suspension upgrades that make the most of available technology and development. Our packages come from our racing programs over the years - E30 J-Stock, E36 ITS/World Challenge, E46 World Challenge/Grand-Am, and E9X M3 Grand-Am. In addition to complete packages we also over select individual components from our pro racing team. These are the same parts as used on our Touring Car and Grand Sport racing efforts with years of on-track developemt by our drivers - Bill Auberlen, Boris Said, Joey Hand, and Billy Johnson, among others. Our race wins and championships are testaments to the engineering and design put into every Turner racing part we offer.
For other individual components, be sure to check out the rest of our suspension page.

For accurate results, specify your model below.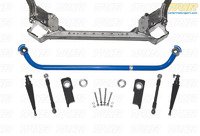 Racers no longer have to struggle with sourcing the ultimate M3 front sway bar - this is it. The infinitely adjustable finishing touch to a highly advanced racing suspension package.

Throughout our years of racing the E92 M3 we have experimented with many different suspension configurations. All this development has allowed us to design and manufacture exactly what the E9X M3 needs for a front sway bar. Our blade type infinitely adjustable bar is intended for track / race cars with a dry-sump oiling system. It will not fit street cars due to interference between the bar and the bottom of the stock oil pan (dry sump systems allow a much thinner oil pan).

This bar is 1.25"x.95" diameter steel tube with a minimum of bends and adjustable blade-style ends. It is very rigid yet tuned perfectly to work with the rest of our suspension. The bar is solidly mounted using aluminum blocks with a rubber isolating liner. The front subframe/engine cradle must be modified for use with these brackets to allow the bar to clear other suspension components. You can modify your existing subframe or purchase one of our pre-modified pieces and exchange your original ($627.07 core charge applies). Our modified subframes also include reinforcing gusseting for the lower control arm mounts and other tricks from our racing department.

For those unfamiliar with blade-style bars, the angle and orientation of the blade determines its torsional resistance. The flatter and more perpendicular to the road the more it will flex. Turning the blade on its side will make it more resitant to twisting and bending. This is the setup our own race team specified after years of racing - and winning - with the E92 M3 with driver feedback from Bill Auberlen, Joey Hand, and Boris Said.

Racing-spec Front Sway Bar Upgrade includes:
tubular bar with serviceable end-bearings
blade-style ends
adjustable sway bar links
bar mounting blocks with collars and liners
all sway bar hardware
optional modified front subframe

Requires: dry-sump oil system

This item fits the following BMWs:
2008-2011 E90 BMW M3 - Sedan
2008-2013 E92 BMW M3 - Coupe

Part #: TMS176973
Ships in 2 Days
Free Shipping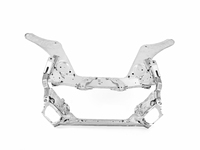 Fitment of the ultimate M3 front sway bar (the Turner Motorsport Racing-Blade Style, that is) requires modifications to be made to the front subframe for proper clearance. We've taken half of the effort out by offering a modified subframe for ease of installation. By utilizing this subframe in concert with our racing sway bar kit and a dry sump oiling system, your track or race car is a step closer to a dialed-in front end.
This subframe includes reinforcing gusseting for the lower control arm mounts and other improvements from our racing department.
See T340455 for this subframe with our sway bar kit.
$627.07 core charge is included in this price and is refunded on receipt of your original subframe.

Part #: tga2283440kt
Ships in 2 Days